House's proposed far-reaching antitrust reforms could cap big tech influence
Markets rebound after President offers lifeline on aid for airlines and small businesses
Key Events
US futures, including contracts on the Dow, S&P, NASDAQ and Russell 2000 , and regional markets rebounded on Wednesday after President Donald Trump tweeted late Tuesday that he would he would approve support for airlines, a small business aid programme, and a bill to send a $1,200 check to Americans. Earlier during Tuesday's US session he had tweeted that he was pulling the plug on coronavirus stimulus package negotiations, sending markets into a downward spin.
This morning euro climbed along with regional bonds ahead of ECB president, Christine Lagarde's speech. Oil dropped Tuesday, after posting its largest increase since May.
Global Financial Affairs
US futures pared some of Tuesday's loses after the president advocated support for airlines and the Paycheck Protection Program—which provides loans to companies to help pay labor costs, rent, and interest on mortgages or utilities. According to the program guidelines, if a firm keeps enough workers on payroll then its loan will be forgiven.
Contracts on the NASDAQ rebounded from an earlier dip triggered by a bipartesan House of Representatives, anti-trust panel proposal putting forward a string of extreme reforms that would limit the power of such mega cap tech giants as Amazon (NASDAQ:AMZN), Facebook (NASDAQ:FB), Apple (NASDAQ:AAPL) and Google (NASDAQ:GOOGL).
The Stoxx Europe 600 Index advanced in early trading with Tesco (LON:TSCO), after the food retailer's results exceeded estimates, offsetting a miss on German monthly industrial production data.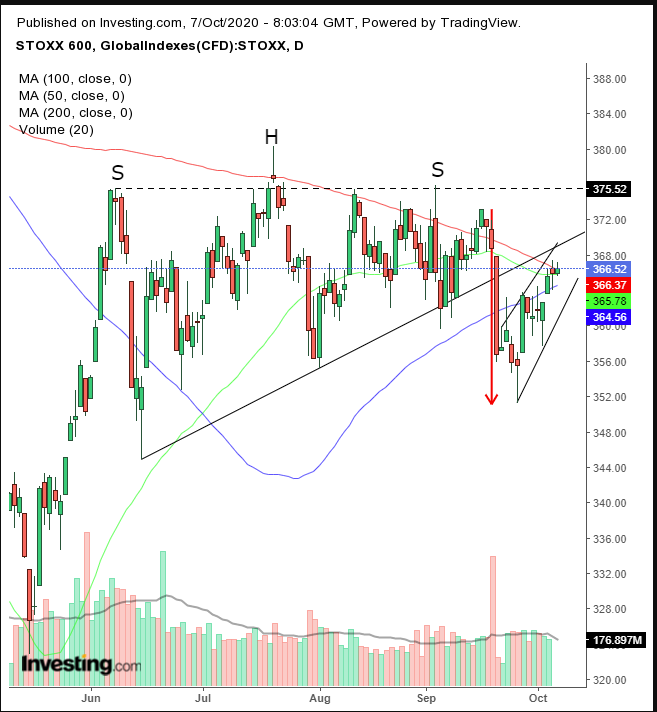 The pan-European benchmark, which initially opened almost 0.1% lower, found support and within four minutes cleared a pocket of supply and turned positive. However, as of the time of writing, the price fluctuated within about 0.3%, eyeing the supply-demand conflict at the top of a rising flag and a top.
Asian markets, including the Hang Seng and KOSPI rebounded from an initial drop. Australia's ASX 200 (+1.25%) outperformed on a budget boost. Japan's Nikkei 225 (-0.05%) underperformed, pulled lower by paper & pulp, railway & bus and real estate. China was still closed for Golden Week.
Regional markets were initially pressured when President Donald Trump tweeted that he was ending stimulus talks until after the election. The tweet was an unexpected about-face, as he had previously supported a stimulus plan. It sent US stocks reeling for the worst selloff in two weeks. Later, when the President called for components that were similar to the initial stimulus, stocks rallied.
The Wall Street sell-off on Tuesday—including a 1.4% drop in the S&P 500, wiping out its 0.7% headway—came merely hours after Fed Chair Jerome Powell reiterated a warning that the economy would contract without another fiscal boost.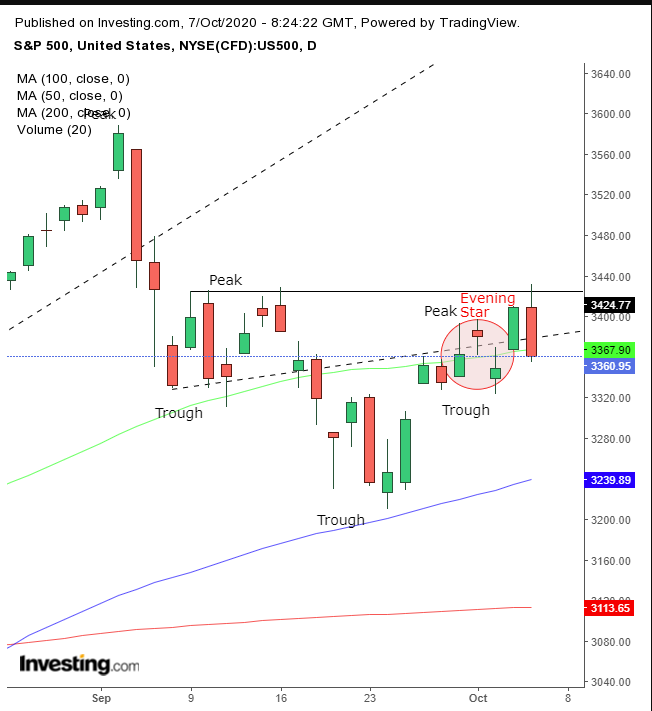 From a technical perspective, the S&P 500 confirmed a month-long resistance. However, if bulls push through past the 3,440 levels, the price will bottom out in a H&S bottom formation.
After falling on the presidents earlier announcement to end stimulus talks, his reconciliatory tone pushed yields, including for the 10-year note, back up.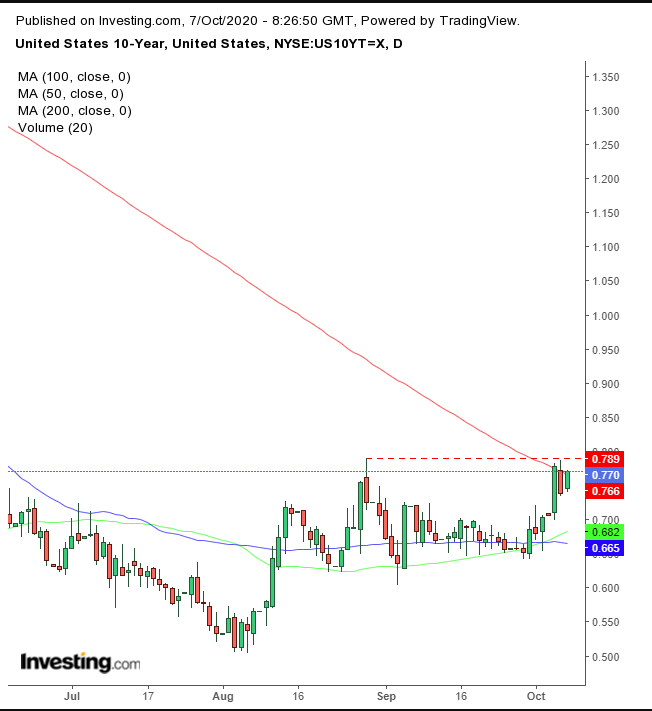 Treasuries retested the Aug. 28 highs, whose significance is underscored by the 200 DMA, holding rates down for the third day.
The dollar index jumped after the presidents first tweet.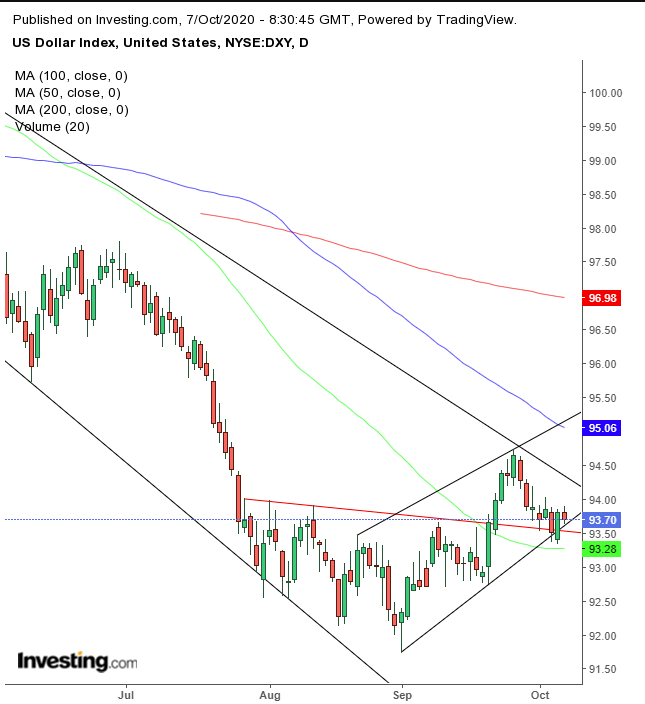 Technically, the dollar is ranging for the fifth straight session, squeezed between the bottom of a short-term rising channel, after a bottom and the top of a falling channel of the medium-term downtrend.
The euro is up ahead of a speech by ECB President Lagarde, but it is also benefiting from dollar-weakness.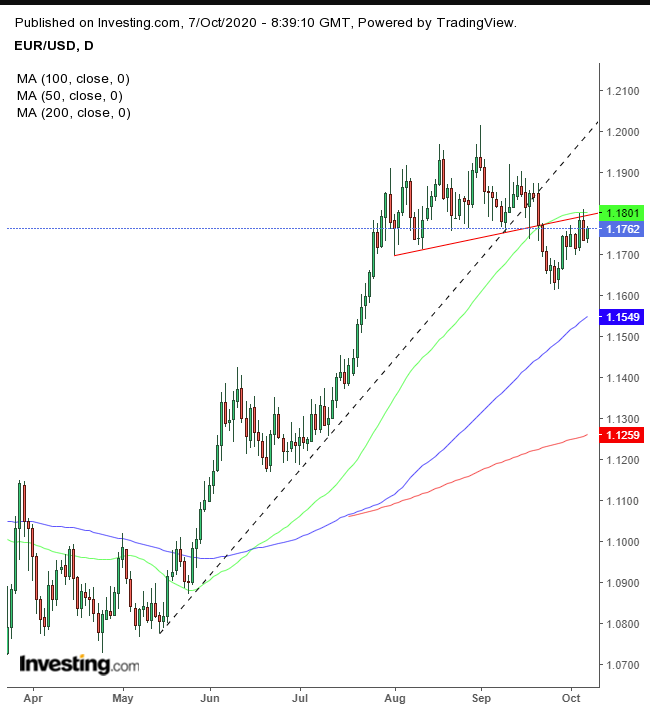 It's difficult to determine the driver of this move. While the euro is up against the Swiss franc, it's down versus the British pound. Technically, the common currency is retesting the neckline of a top.
Gold opened lower on the flip from risk-off to on. Yesterday, the yellow metal fell on dollar strength. However, these are all short-term drivers.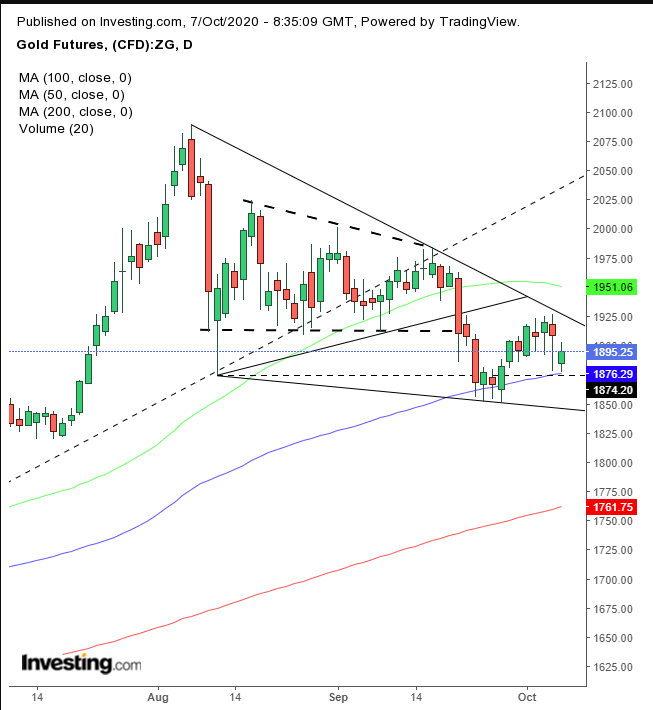 The overall technical picture will be determined by the direction of a breakout from gold's range since it's Aug. 7 fresh all-time high—either confirming a bearish symmetrical-triangle or completing a bullish falling wedge. The asset, reversing from its haven status to a hedge against a weakening dollar has been shifting its trading pattern along with the changes in the supply and demand.
Bitcoin is flat after yesterday's drop that erased a session and a half of gains.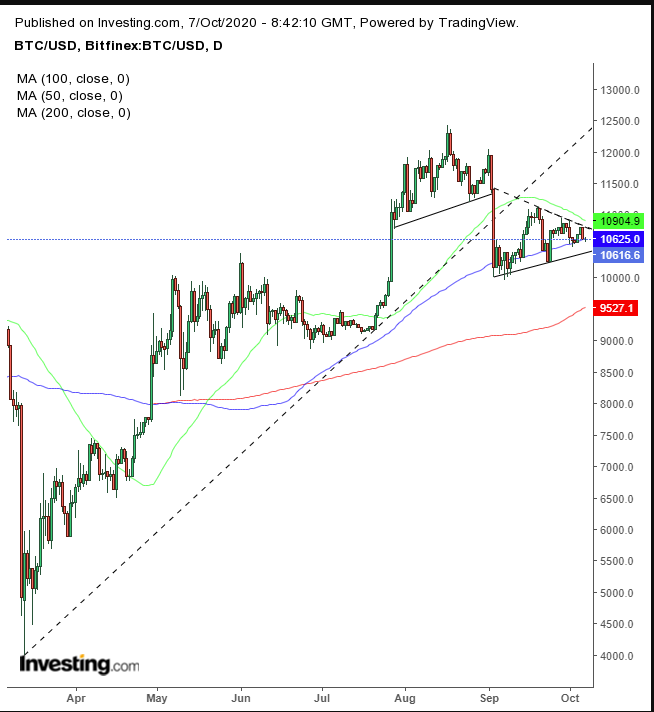 The digital currency is finding support off its 100 DMA after a sixth attempt within seven days. Yesterday it retested the top of a symmetrical triangle, setting it up to be the second consecutive bearish pattern after the H&S top pushed prices below their uptrend line since the March bottom.
Oil pared half of yesterday's gains, which built on Monday's rally, it biggest increase since May.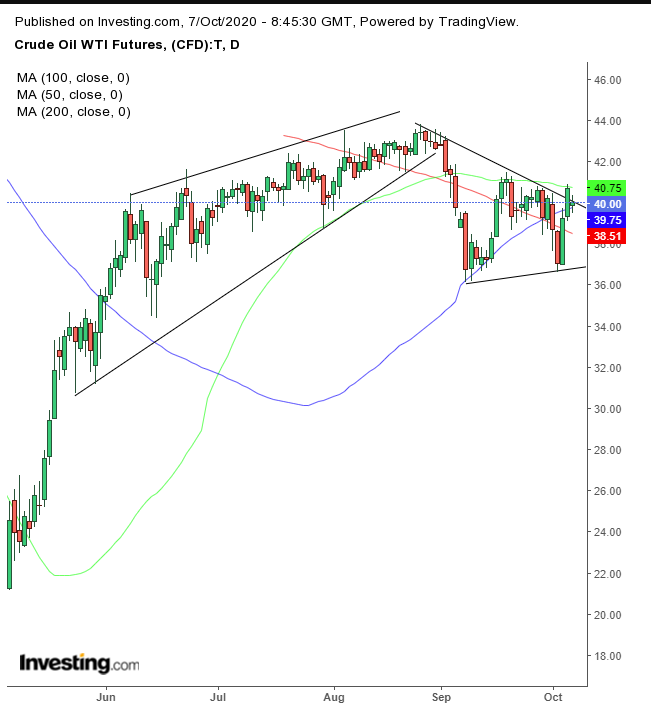 The current slump—despite the risk on from Trump's support of alternative stimulus measures—confirms the top of a bearish symmetrical triangle, validating the preceding bearish rising wedge.
Up Ahead
ECB's Christine Lagarde and Francois Villeroy will speak at a conference in Paris Wednesday.
The of the Sept. 15-16 meeting of the FOMC, which will be released on Wednesday may be fruitful for Fed watchers, beginning with details of the debate on conditions necessary to trigger a rate increase.
The U.S. Vice Presidential debate takes place in Salt Lake City on Wednesday.
Market Moves
Stocks
Futures on the S&P 500 Index rose 0.7%.
The Stoxx Europe 600 Index climbed 0.2%.
Germany's increased 0.2%.
The Index gained 1.4%.
Currencies
The dollar Index dipped 0.1% to 93.70.
The euro gained 0.2% to $1.1756.
The Japanese weakened 0.1% to 105.76 per dollar.
The British pound rose 0.3% to $1.2918.
Bonds
The yield on 10-year Treasuries gained two basis points to 0.76%.
Germany's yield declined one basis point to -0.52%.
Britain's yield declined two basis points to 0.271%.
Commodities
West Texas Intermediate crude decreased 0.9% to $40.30 a barrel.
Gold strengthened 1% to $1,896.16 an ounce.

Written By: Investing.com