Risk-appetite returns after California and European economies begin reopening plans on falling coronavirus deaths
Oil jumps above $22 on production cuts and reopening economy hopes
Key Events
US futures for the S&P 500, Dow Jones, NASDAQ and Russell 2000, as well as global stocks all moved higher on Tuesday, driven by optimism as world economies started reopening. 
Though the brewing US-China trade war slid into the fuzzy background, economic data still paints a dismal picture, but investors may now be pricing that in.
Oil climbed for the fifth straight day, breaking above the $20 level, its longest advance in nine months.
Global Financial Affairs
All four major US futures were up at least 1%, with Russell futures over 2%, suggesting the underlying indices will extend yesterday's rebound on Wall Street.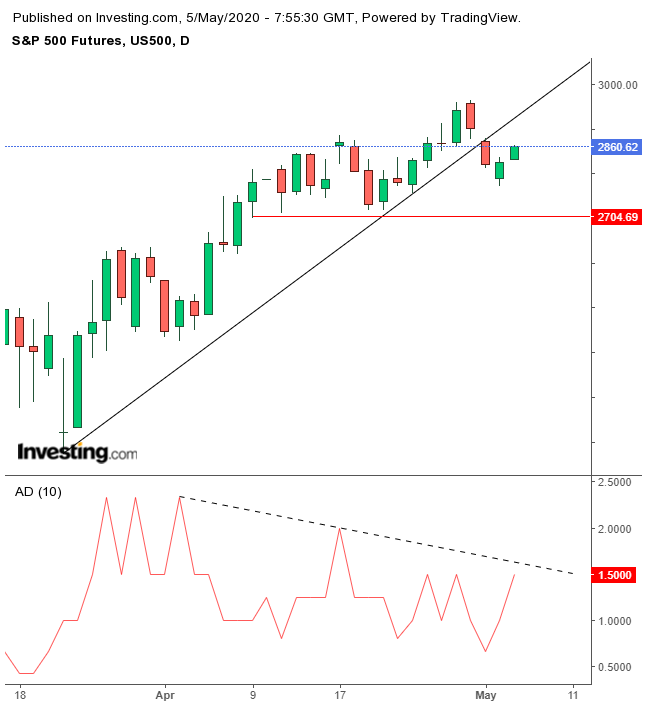 Contracts on the S&P 500 climbed for the second day, after falling below their uptrend line since the March low.  The advance-decline line indicates that participation has been falling since the March bottom, triggering a negative divergence.
The STOXX Europe 600 Index jumped 1.7%, ending a three-day loss, led higher by French energy major Total (PA:TOTF), which jumped as much as 7.9%, even after reporting a 35% drop in quarterly profits, after the company kept dividends unchanged from a year ago and increased its commitment to almost eliminate its carbon emissions by 2050 while curbing investments on oil and gas projects.
The pan-European index confirmed a falling, bullish wedge, after the release of a batch of positive corporate results.
BNP Paribas SA (PA:BNPP) surged 6.5% to €28.57, even after negative guidance due to COVID-19, because the bank said it had set aside cash to cover faulty loans. From a technical perspective, the stock will have to break through the €31.09, the April 29 high, to complete a bottom. Conversely, a fall below the €24.50 low of April 3 will signal revisiting the 2012 lows, below €25.
Stocks in Asia took their cues from Monday's Wall Street rebound, flipping from a third day of losses to an advance—boosted by rising oil prices along with easing lockdown restrictions. Australia's ASX 200 led the advance, (+1.64%).  Japanese, Chinese and South Korean markets were closed on a holiday.
Yesterday, US investors turned positive late in the Wall Street session after California's Governor, Gavin Newsom said the state was looking to ease lockdown restrictions, after reporting the fewest coronavirus deaths in three weeks.
The yield on the US 10-year Treasury climbed for a second day, the highest point since April 14.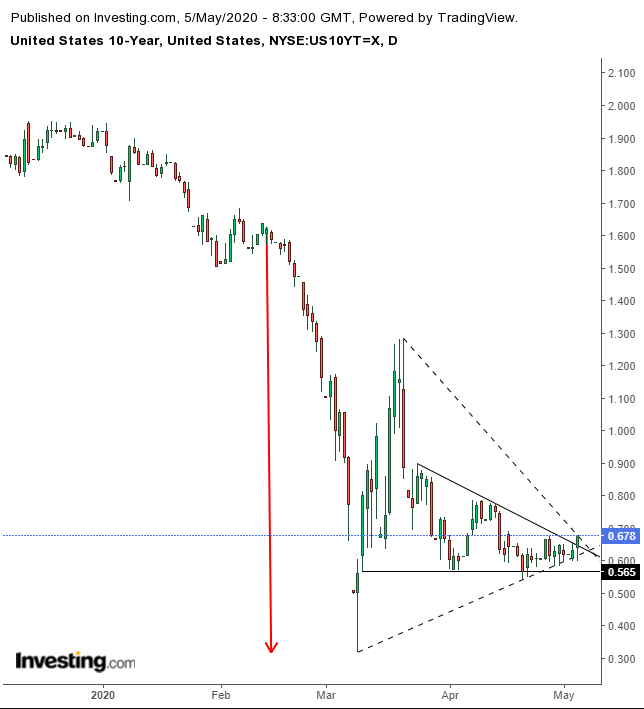 The benchmark note is testing the top of a possible descending triangle, expected to break to the downside after its sharp plunge since COVID-19 hit markets. However, the earlier spikes—in both directions—marked by the dotted lines, make it difficult to interpret upcoming moves.
The US dollar trimmed yesterday's gains.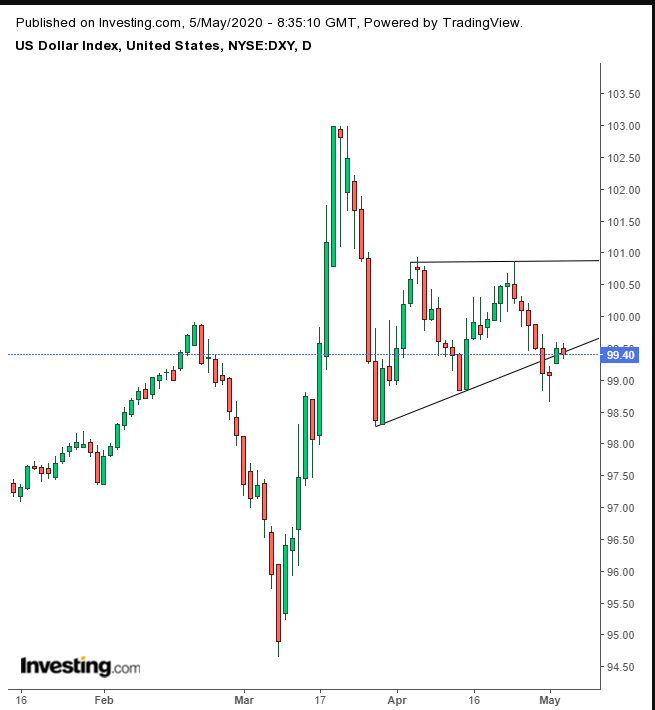 The currency struggled for the second day, right on the bottom of a descending triangle, uncharacteristically following a drop, demonstrating the price level as a technical pressure point.
Gold fell too.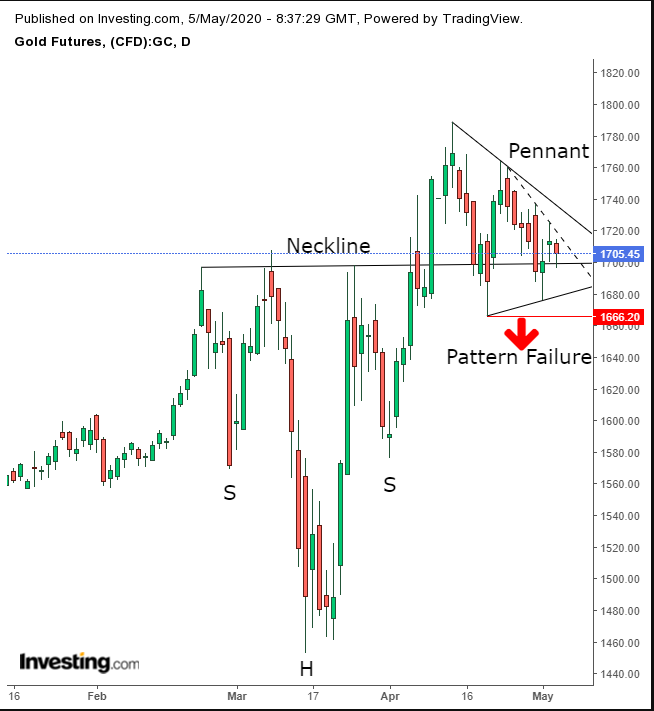 The yellow metal is trading along a pennant, expected to be bullish, following the preceding rally, which itself completed a H&S continuation pattern.
Oil prices jumped for the fifth straight day, the longest winning streak for the commodity in nine months.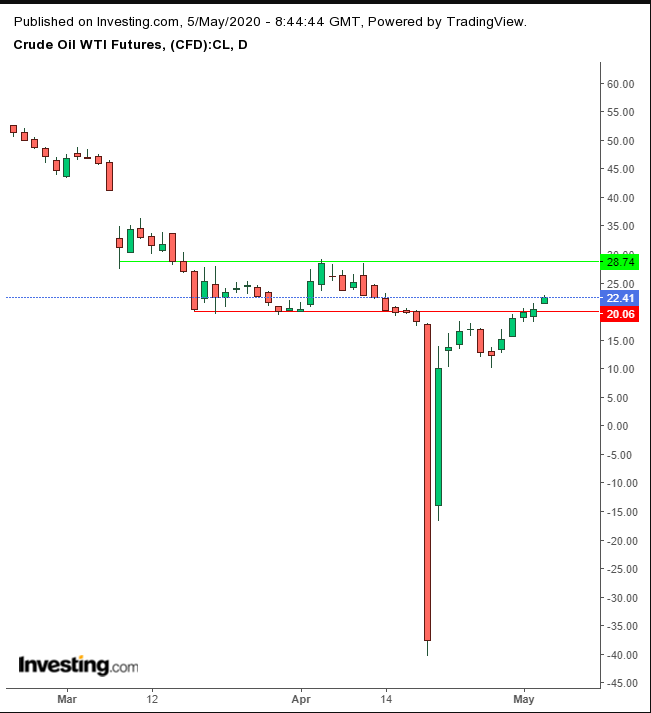 Incredibly, WTI broke through our $20 red line, passing $22, as production cuts put in place by global oil producers including OPEC+ ease supply while lockdown loosening is expected to boost demand. Our expectation is that oil will range between $20 and $28 now, from the March lows to April highs.
Up Ahead
Today's US and PMI readings for April are both expected to be significantly lower than March numbers.
The Bank of England releases a on Thursday.
Friday brings the U.S. for April, expected to show a severe impact from the pandemic. The median forecast in a Bloomberg survey of economists calls for a 21 million plunge in payrolls.
Market Moves
Stocks
Futures on the S&P 500 Index climbed 1%.
The Stoxx Europe 600 Index increased 1.5%.
The advanced 0.6%.
Currencies
The Dollar Index decreased 0.1%.
The declined 0.2% to $1.0888.
The increased 0.1% to $1.2453.
The was little changed at 106.77 per dollar.
Bonds
The yield on 10-year Treasuries gained three basis points to 0.67%.
Germany's yield climbed two basis points to -0.54%.
Britain's yield gained two basis points to 0.248%.
Commodities
West Texas Intermediate crude climbed 9.6% to $22.35 a barrel.
Gold weakened 0.4% to $1,695.03 an ounce.

Written By: Investing.com