When former European Central Bank (ECB) president Mario Draghi uttered his famous "whatever it takes" to defend the euro declaration, what mattered was not only the words he used, or where he said it—in London—but that it was Draghi himself who said it. He had all the credibility and authority a career in monetary policy gave him. So when he added, "And believe me, it will be enough," people took him at his word.
Unfortunately that's not quite the case at the moment for Christine Lagarde, Mario Draghi's successor. In her debut appearance this past Thursday to explain ECB governing council policy, Lagarde read the script well enough. However, during the question and answer period, she was more tentative, veering whenever possible back to her comfort zone of economic policy and politics, rather than monetary policy.
Draghi had already set the controls on eurozone monetary policy for the next six to 18 months. That's left Lagarde free to host dinners in luxury hotels to make governing council members feel better and to talk about undertaking a thorough review of ECB strategy that will take at least a year (no details on that, please, until further consultation with council members).
However, there has been nothing in Lagarde's early appearances to dispel the reservations that greeted her nomination in July that for all her polish on the international stage, the trained lawyer and former French finance minister has only a rudimentary acquaintance with monetary policy.
It's not likely that she will be called upon in the next few months to say anything like "whatever it takes," but if she did, why would anyone believe her? Why would anyone think she even knew what it would take?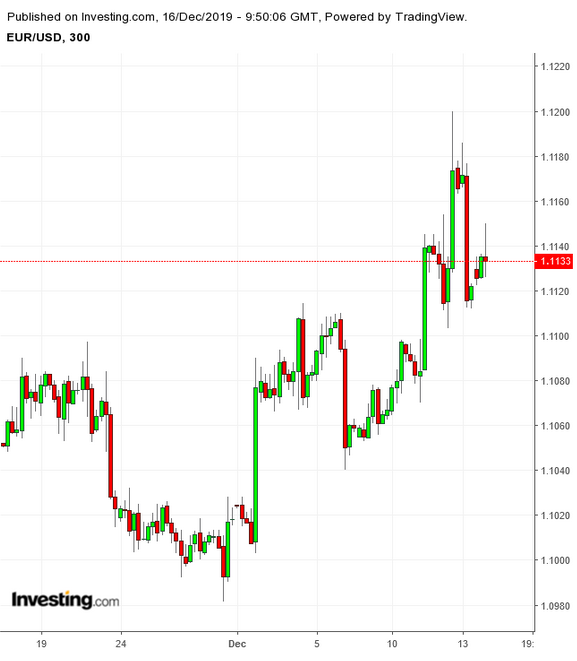 Those who want to cut the former managing director of the International Monetary Fund some slack say that Philip Lane, the former Central Bank of Ireland governor, recently appointed as chief economist at the ECB, can do the heavy lifting on monetary policy. This is like saying that Federal Reserve Chair Jerome Powell will be flanked by Fed Vice Chair Richard Clarida, a Columbia University economist, and Federal Open Market Committee Vice Chair John Williams, the New York Fed Chief who is a Fed lifer, to shore up Powell's lack of economic and monetary policy expertise.
That's not working out particularly well for the U.S. central bank given the starts and stops and reversals in Fed policy that have sent stock markets plunging and money markets reeling. At least Powell put in a few years as a board member learning some of the intricacies of monetary policy. But he still does not have the comfortable familiarity with it of a Draghi or Janet Yellen or Ben Bernanke, for example.
Or for that matter Paul Volcker. The legendary Fed chairman, who died earlier this month at age 92, was a brilliant economist who earned his chops as New York Fed chief before taking on the top job at a time of crisis even worse than the one encountered by Draghi.
If eurozone leaders felt that Philip Lane had the authority and credibility to act as a bulwark of monetary policy for the euro, they could have appointed him to the top job. Instead they went for the big name, no doubt in part because France very much wanted a French national in the top job. However, it is arguable that no matter how distinguished an international career Lagarde has had, the pinnacle is no place to learn how to make monetary policy work.
In any case, Lane was not present at the press conference and ECB Vice President Luis de Guindos continued to play his role as a silent prop. There has been some speculation that Lagarde might have widened the participants in the press conference to signal that the ECB was no longer a one person show.
Much of the media reporting and the mildly positive market reaction was attributed to Lagarde's upbeat tone, as she joined other central bankers in seeing a reduction of downside risks in the world economy. Central banks in Australia and Canada left rates unchanged in recent meetings, and Sweden's central bank even suggested it might start raising rates as soon as its meeting this week.
But central bankers can be upbeat because of the actors making those downside risks decline—the U.S., China and British voters, among others. The economic and financial picture looks brighter now and central bankers can step back from the spotlight for the time being.
Like the ECB governing council, markets seem willing to grant Lagarde a honeymoon period, or maybe it's a probation period. The test will come when the euro needs a strong defender.

Written By: Investing.com