Reports Q3 2020 results on Thursday, Oct. 22, after the market close
Revenue Expectation: $18.22 billion
EPS Expectation: $1.1
Intel (NASDAQ:INTC), the world's largest chip-maker, is losing ground to other smaller players. Despite its short-term financial strength, investors are worried about its industry leadership, which is under threat after it has failed to beat its rivals to market with the fastest latest-generation chips.
Intel's shares are clearly reflecting these concerns. When other chip-makers are enjoying strong gains this year, Intel stock is down about 12%. It closed yesterday at $53.50.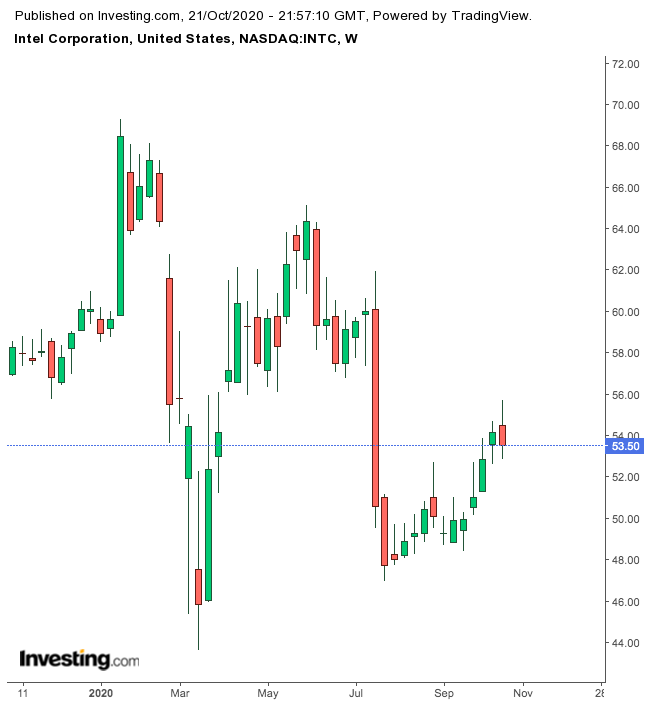 Now is perhaps one of the most disappointing times for Intel investors. The largest U.S. chip-maker is struggling to catch up to new technologies as its production of the most advanced chips falls behind schedule.
This summer, Intel announced that it's considering outsourcing its chip manufacturing after years of delays to bring the latest products to market. These delays have helped rivals, including Advanced Micro Devices (NASDAQ:AMD), to catch up on performance and capture a larger market share.
Intel's current best technology, known in the industry as 10 nanometer, was scheduled to be released in 2017. It is only now making it into high-volume production. And when the company reported its last earnings in July, it said the next iteration—7 nanometer—would be delayed by a year.
Intel's Long-Term Appeal Is Intact
To address these challenges, Intel is quickly re-balancing its portfolio and getting out of the markets where it can't beat competition. Intel announced last week that it has agreed to sell its Nand memory-chip subsidiary to South Korea's SK Hynix (KS:000660) for about $9 billion.
Despite some setbacks this year, we believe the long-term value of Intel's stock remains intact. The company is ingrained in the psyche of the tech world and has what it takes to rebound from this current bad phase.
Intel's CEO Bob Swan told investors yesterday that he was selling its flash memory business to unlock capital to use on better opportunities in fast-growing areas, such as 5G and artificial-intelligence computing.
On the other hand, the pandemic has boosted demand for its high-margin products, including its most advanced processors for data centers. That demand surge propelled earnings significantly higher in the past two quarters, helped by the continuing strong shipments to data centers run by the world's largest cloud computing firms, like Amazon (NASDAQ:AMZN) and Microsoft (NASDAQ:MSFT). Its profit in the April-June period jumped 22% from a year ago, while its revenue rose more than 19% from a year earlier, beating analysts' estimates.
Bottom Line
Intel continues to show strong growth in both its sales and profitability. As of this writing, Intel trades for just 9.8 times its trailing 12-month price-to-earnings multiple.
We don't see this stock staying this cheap for long, making it a good value pick for long-term investors. With the potential upside, investors will also earn growing dividends, currently yielding 2.65 per share. Any post earnings weakness should be taken as a buying opportunity.

Written By: Investing.com