In a week that's packed with a variety of mega earnings reports, there's one fear that is likely to keep investors distracted: the coronavirus from China that has so far killed at least 56 people and spread to additional countries, including the U.S., Australia and France.
Pressured by investor worries, the Dow Jones Industrial Average ended Friday down 170 points. The S&P 500 and NASDAQ Composite also showed weakness, halting the 2020 rally that was pushing indexes to new highs almost every other day.
Still, in this environment of fear, there are many important earnings releases that investors can't afford to ignore. Here are three technology giants whose reports could help clarify whether the latest gains in their share prices are justified:
1. Apple
Apple (NASDAQ:AAPL), the maker of popular iPhones as well as computers and smart wearables, will report Q1 2020 results on Tuesday, Jan. 28, after the market close.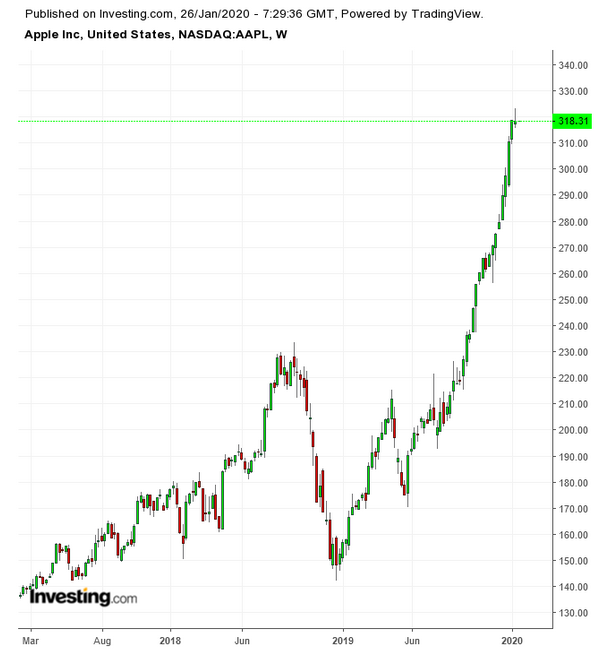 The stock has been on a tear recently, doubling in value over the past one year as demand for its new iPhones rebounded and the company made more money from its other businesses. For Q1 earnings, analysts will be keen to know how the firm fared during the holiday season and whether it believes this period of unusual strength will continue.
The shift in sentiment for Apple came after a short-lived bearish spell in early 2019 as investors became convinced that the Cupertino, California-based manufacturer's strategy to generate more revenue from its services division is paying off. The increasing contribution from services like iCloud storage and Apple Music is making the company's business more stable, prompting analysts to assign a higher multiple to its stock. In recent weeks, several analysts have also raised their earnings forecasts, citing strong feedback from AAPL suppliers.
For the company's fiscal 2020, Q1 results, analysts are expecting $5.54 a share profit on sales of $88.38 billion. Apple stock hit a record high on Friday intraday of $323.33, but closed marginally lower for the day.
2. Facebook
Social media giant Facebook (NASDAQ:FB) will report fourth quarter 2019 results on Wednesday, Jan. 29, after the market closes. The company is expected to have generated $28.9 billion in revenue and post $2.52 of earnings per share.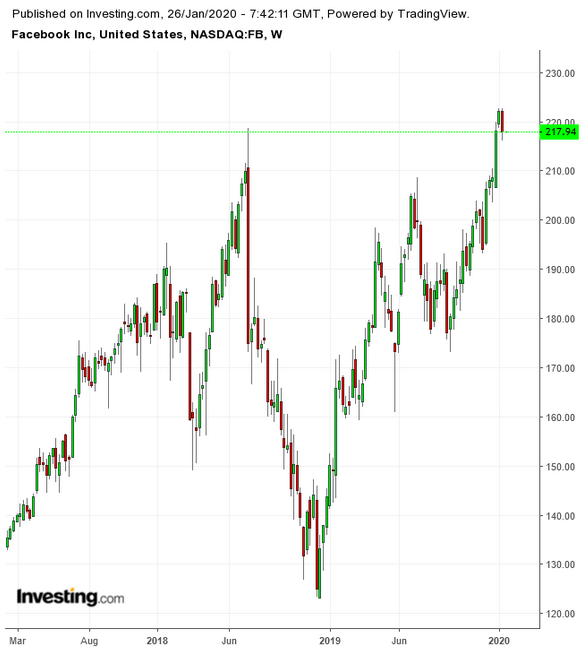 Shares of Facebook also hit a record high this month, recovering from the deep slump of 2018, in defiance of regulatory probes, fines and general public mistrust of the platform. The stock finished Friday's session at $217.94, falling 0.8%.
This strong rebound comes after a tumultuous 2018 when investor confidence in the company was shaken badly by a series of high profile setbacks, including data breaches, user privacy concerns and the political manipulation of its platform.
Though Facebook's troubles are far from over, with CEO Mark Zuckerberg warning of a "tough year" ahead, the company continues to show resilience in its earnings. For the third quarter, Facebook reported that new users are still flocking to its apps, with 2.8 billion people now utilizing at least one of its services monthly.
This week will be important for investors as the possibility exits that Zuckerberg could highlight the risks of the U.S. Presidential election later in the year and how the costs of tighter regulation are affecting the company's bottom line.
3. Microsoft
One of Wall Street's tech darlings, Microsoft (NASDAQ:MSFT), reports fiscal Q2 2020 earnings after the market close on Wednesday, Jan. 29. The computer giant is likely to post $1.32 a share profit on sales of $35.7 billion.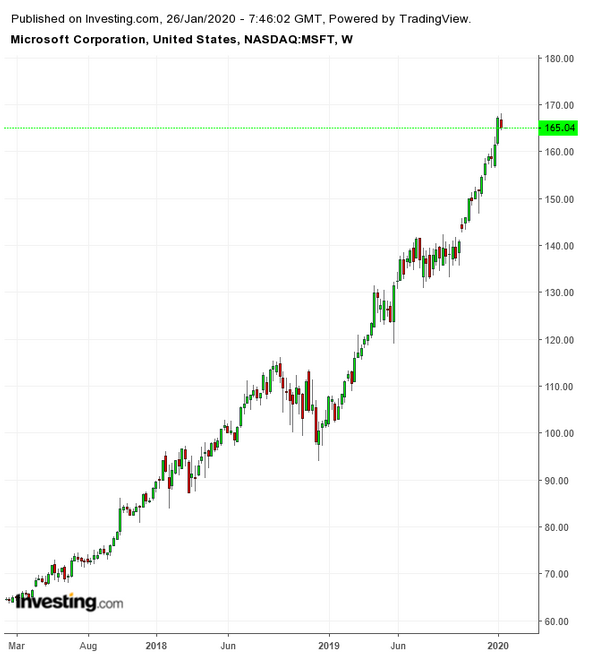 If the past provides any clues, the tech colossus should show strong growth momentum fueled by a surge in technology investments and the strength of its core Office products.
Shares of Microsoft—which hit a record high $168.19 on Tuesday but closed a little below that on Friday, at $165.04—have been a very successful bet for investors who believed in CEO Satya Nadella's growth strategy which has helped reinvent this legacy tech company.
That strength was on display in the first quarter of 2020 when Microsoft reported that its sales and profit continued to grow, boosted by the company's Azure cloud computing programs and internet-based versions of Office.
Revenue from its Azure cloud services segment rose 59% in the recent period, though they slowed from a 64% gain in the previous period and 73% for the quarter before that. Shares of Microsoft might give up some gains this week if growth in this key segment slows again.

Written By: Investing.com