On Oct. 13, Tim Cook, CEO of Apple (NASDAQ:AAPL), introduced 5G-enabled iPhones. The widely-anticipated event has heightened consumer interest in the fifth generation (5G) wireless networks.
For investors, the big question is which stocks stand to gain from the deployment of 5G both in the US and globally.
Today, we'll take a deeper look at the 5G revolution as well as sectors and ETFs which could benefit:
The Upcoming 5G Revolution
One reason people are so excited about the 5G revolution: a wide range of studies discuss how it will boost productivity. For instance, chip giant Intel (NASDAQ:INTC) highlights:
"Each wireless network generation has reflected a significant increase in speed, and the benefits of 5G—the fifth generation of cellular network technology—will push far beyond 4G LTE. Predicted speeds of up to 10 Gbps represent up to a 100x increase compared to 4G."
UK-based telecoms group Vodafone (NASDAQ:VOD) tells users:
"Lagging and lost connections are a thing of the past, and superfast, stable downloads, streaming and connectivity are now available wherever you have 5G coverage—even when you're in busy places."
5G will lower the lag or latency of mobile applications, providing customers high bandwidth and data capabilities. This will likely support further technological developments in virtual reality/augmented reality (VR/AR), Internet-of-Things (IoT), health care and self-driving cars.
Swedish networking company Ericsson (BS:ERICAs), (NASDAQ:ERIC) suggests 5G will be the backbone of the infrastructure to develop smart cities.
Mobile phone providers that will offer 5G connectivity are appealing to investors for their growth potential considering that in 2021, around 77 million phones are expected to be upgraded and by 2025, the number will likely reach 1.5 billion.
Sectors And Stocks To Benefit
We can anticipate that Apple stock will be at the center that growth. Carriers and telecom companies, like AT&T (NYSE:T) and Verizon Communications (NYSE:VZ), or 5G cell tower owners such as American Tower (NYSE:AMT) also deserve attention.
Semiconductor stocks, including Qualcomm (NASDAQ:QCOM), are forecast to lead the 5G revolution. After all, chips are indispensable in all such technological innovations.
Gaming shares like Activision Blizzard (NASDAQ:ATVI) and NetEase (NASDAQ:NTES) will gain from increased speeds in cloud gaming. 5G will enable cloud gaming to go head-to-head with console games as it will allow significant improvements to graphics.
Internet and social media giants like Amazon (NASDAQ:AMZN), Alphabet (NASDAQ:GOOGL), Facebook (NASDAQ:FB) and Netflix (NASDAQ:NFLX) also top the list of 5G beneficiaries.
Global X Internet of Things ETF
Current Price: $27.77
52-Week Range: $14.81-$28.38
Dividend Yield: 0.67%
Expense Ratio: 0.68%
The Global X Internet of Things ETF (NASDAQ:SNSR) provides exposure to businesses that focus on technologies, like IoT and 5G. IoT is still a nascent field that refers to the development and use of connected devices. The fund started trading in 2016.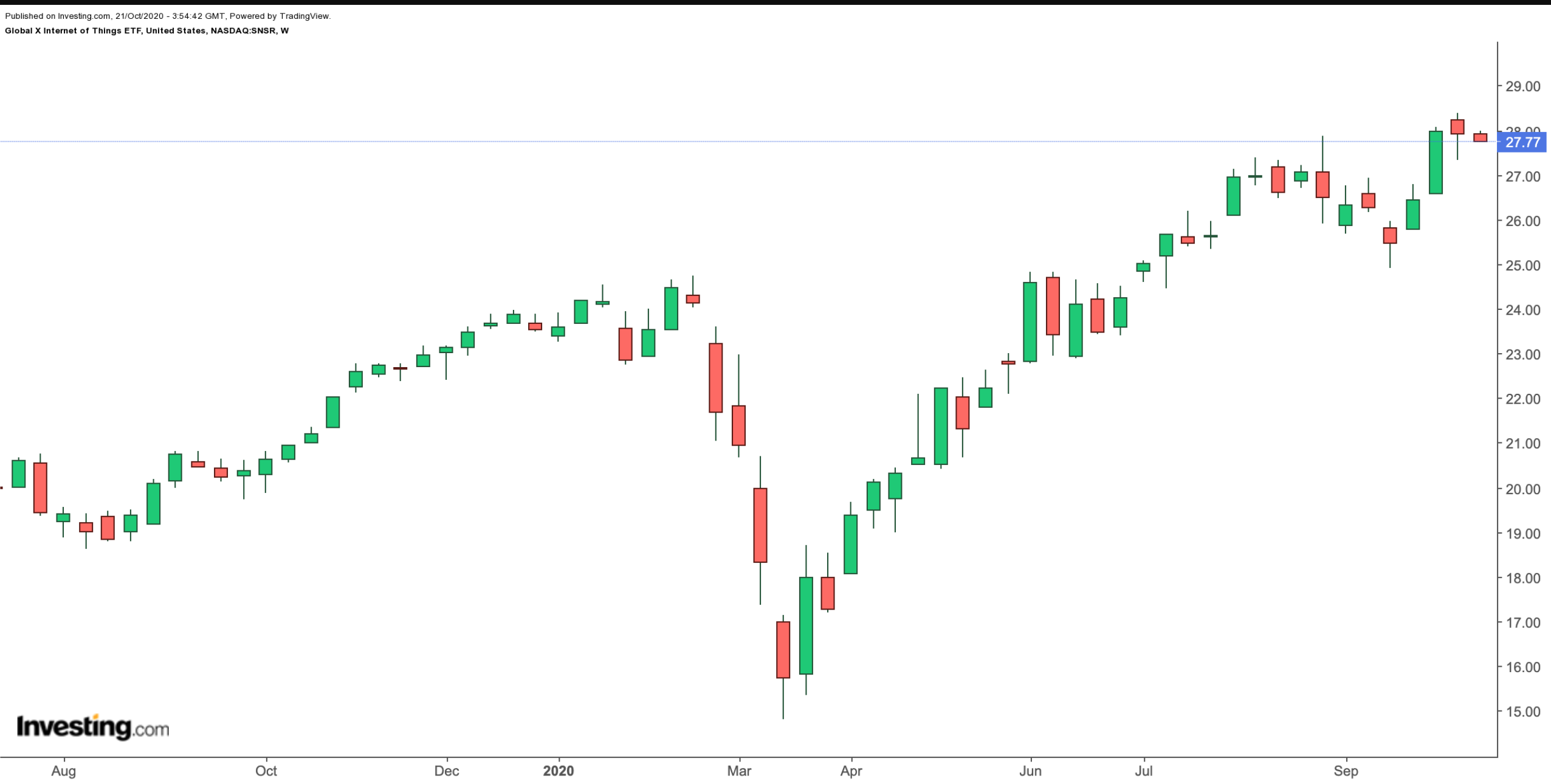 SNSR, which has 47 holdings, follows the Indxx Global Internet of Things Thematic Index. The top 10 holdings constitute more than 50% of SNSR's net assets, which stand close to $250 million.
Switzerland-based semiconductor technology group STMicroelectronics (NYSE:STM), California-based semiconductor firm Skyworks Solutions (NASDAQ:SWKS) and Taiwan-headquartered Advantech (TW:2395)—a global name in IoT intelligent systems and embedded platforms—head the list of businesses.
Almost half the companies in the fund come from the U.S. The rest are from Switzerland, Taiwan, Austria, the UK and France, among others. In terms of sector allocation, SNSR is weighted heavily toward information technology (59%), followed by industrials (28.5%) and consumer discretionaries (6.7%).
Since the start of the year, SNSR is up 18% and saw an all-time high earlier in October. IoT and 5G overlap significantly as they both enhance connectivity. Therefore, the fund could act as a proxy into the 5G space.
Bottom Line
Analysts concur that 5G is a disruptive technology. It can connect everyone and everything everywhere. As a result, we can expect a wide range of stocks to gain in the coming quarters.
Understandably, U.S.-based companies will not be the only beneficiaries. For instance, many businesses in China, the most populous country in the world and the second biggest global economy behind the U.S., are likely to reap the benefits of 5G, too.
One regional ETF to research would be the Global X MSCI China Communication Services ETF (NYSE:CHIC). The fund, which started trading in 2009 currently has 37 holdings. Since the start of the year, the fund is up close to 10% and hit an all-time high in July.
Clearly, 5G will change many aspects of our lives. Therefore, we plan to re-visit the topic and discuss other funds and stocks in the coming weeks.

Written By: Investing.com