Tesla (NASDAQ:TSLA) yesterday delivered what investors were expecting. The world's most valuable car-maker reported a fifth consecutive quarter of profits, reaffirming that it remains on track to deliver half a million cars in 2020.
This strong performance is no joke in an environment where other car producers are struggling in the midst of a pandemic-driven global recession. The California-based electric car-maker reported Q3 profit of $0.767 a share on an adjusted basis, surpassing analysts' consensus estimate for $0.55 a share.
CEO and founder Elon Musk described the last three-month period as "our best quarter in history." The company saw production and delivery hitting records. Tesla also finished the quarter with $14.5 billion in cash on hand, its highest level ever, boosted by the $5-billion equity sale during the period.
Shares of Tesla were up about slightly on Thursday, closing at $425.79, adding to over its 400% rally this year.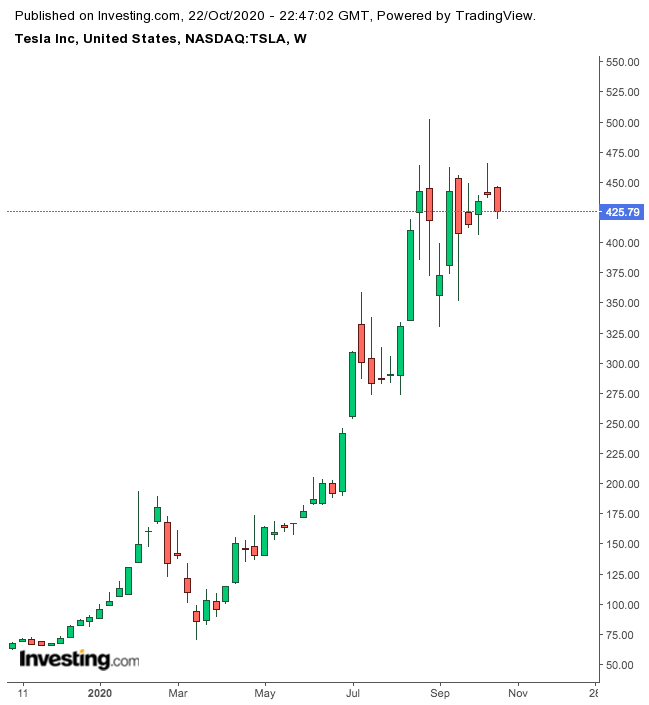 The company needs to deliver more than 181,000 cars in the last three months of the year to hit its 500,000-vehicle target, which would be a 30% jump over the previous quarter.
"While achieving this goal has become more difficult, delivering half a million vehicles in 2020 remains our target," the company said in a statement. This will largely depend on increased production at its Shanghai factory and higher output of its Model Y.
No Significant Surprise
But despite these promising results and future projections, many top analysts were not willing to revise their views on Tesla's stock.
"Net-net, we don't think the quarter changes the long-term terminal value debate much—when viewed in relation to the current stock price," said Citi analyst Itay Michaeli in a note.
Tesla's Q3 results were generally strong and slightly better than Street estimates, according to Bank of America. But "there was little in the way of a significant positive surprise that we believe bulls were hoping for."
Tesla has earned just $0.50 a share over the past four quarters, so shares trade at more than 800 times trailing earnings. Its market value approaches $400 billion, or roughly five times the combined value of Ford (NYSE:F) and General Motors (NYSE:GM).
According to a Wall Street Journal analysis, Tesla profits are heavily flattered by sales of regulatory credits to help rivals meet emissions mandates. Tesla has booked $1.3 billion in such sales over the past four quarters, which carry a 100% profit margin. Total net income over that period is just $556 million.
"That profit source might not be available in the years to come as more electric competition from legacy auto makers comes online," WSJ's Charley Grant wrote in post earnings analysis.
Bottom Line
Tesla's latest earnings report doesn't change our view that the company's recent showing is already factored into the stock valuations and its shares are substantially overvalued relative to the fundamentals.
With a lack of new catalysts, it's prudent for investors to book some profit and wait on the sidelines for a better entry point. After a breathtaking rally this year, Tesla shares will remain susceptible to downward pressure, especially when many top analysts think that the current rally has run its course.

Written By: Investing.com