If gold is on the ropes, to use a boxing analogy, then platinum is looking like it's on the canvas—and unlikely to get up soon.
Grouped together with bullion and silver as precious metals, platinum has over the years become known more for its industrial uses than as a jewelry-making component or a store of value. Platinum and its sister metal palladium are the only known metals for purifying diesel and gasoline engine emissions, respectively. Yet, the two Platinum Group Metals are down 12% or more this year. Gold, comparatively, is off just 7% while silver has tumbled 10%.
Once pricier than gold, platinum's fortunes have plummeted as sales of diesel cars in Europe slowed after Volkswagen (DE:VOWG_p)'s emissions cheating scandal in 2015, and have deteriorated further with the shift toward electric vehicles. The metal's stockpiles have, meanwhile, been growing. Catalytic converter maker Johnson Matthey (LON:JMAT), closely tracked by PGM investors and auto companies for its prescient forecasts, expects platinum supply to be in a surplus of 316,000 ounces by end of 2018 as demand for diesel catalysts drop by 3%.
Gold's Woes Add To Platinum And Palladium's Pains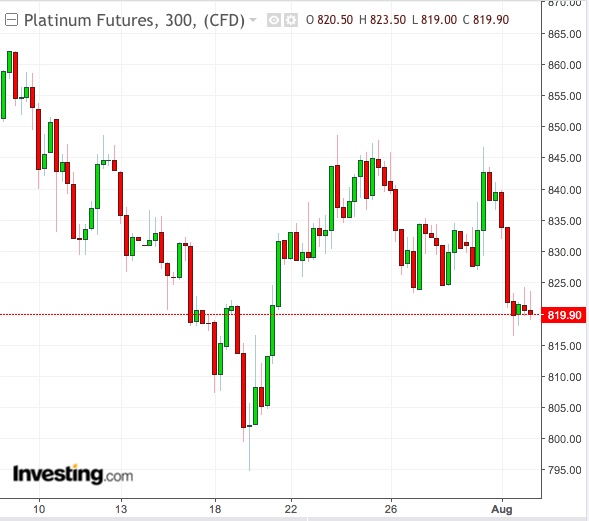 Gold's rout over the past two months has added to PGM's woes, with investors treating all precious metals alike as the dollar rallied. Platinum was one of the biggest losers across 60 major global commodities tracked by Barchart on Wednesday, settling 2.6% down after hitting a near two-week low of $827 an ounce. Earlier, on July 19, it struck a near 10-year bottom at $794.70. A far cry for a metal that during its heyday of 2011 traded above $1,900 – some 35% higher than where gold is today.
Investing.com's daily technicals have a "Sell" on platinum, with Fibonacci patterns indicating first support at $816.91, second at $811.15 and third at $801.83. On Wednesday, platinum for October delivery on New York's COMEX settled at $821.50.
Fundamentally, PGMs have another problem: the US-China trade war.
"The tariffs and counter tariffs all look bearish for now on China's car sales," said George Gero, precious metals analyst at RBC Wealth Management in New York. "That cannot be good for PGMs and the catalytic converters they serve."
Palladium In Better Shape
Between the two PGMs, palladium looks to be in better shape, holding to the premium it has held against platinum since last autumn. On Wednesday, October palladium on COMEX settled at $914 an ounce – 11% above its sister metal.
While Europe's diesel engine crisis has cost demand for platinum-incorporated catalysts, palladium-made catalysts have seen a pick up from global sales of gasoline-powered cars, despite the emergence of electric and battery-operated vehicles. That opens the possibility for a palladium supply deficit by next year, with Johnson Matthey forecasting a 239,000-ounce shortfall. Larger deficit estimates of 1.1 million and 1.2 million ounces have been forecast by Thomson Reuters GFMS and Metals Focus, respectively.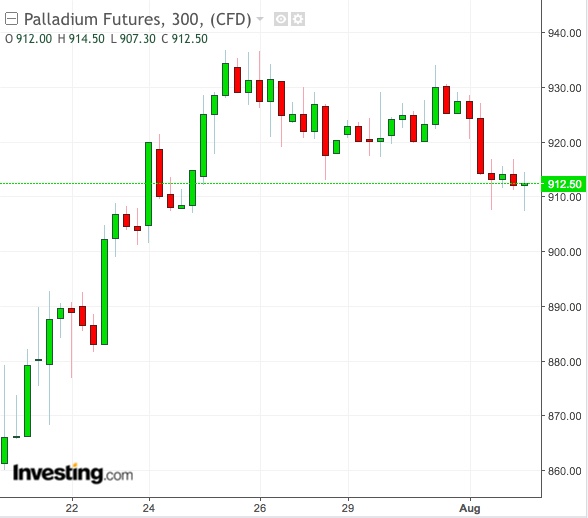 Despite its better profile, palladium is graded a "Strong Sell" by Investing.com's daily technicals. Fibonacci patterns indicate first support at $908.62, second at $903.52 and third at $895.27.
Commerzbank said in a note on Wednesday it expected palladium to reach $950 by the year end and to $1,000 by 2019.
The group said if platinum could grow in the Asian and North American commercial vehicles industry, boost jewelry demand that has lagged for years and find new opportunities in fuel cell development, there were chances for it to be in a supply deficit as well by 2019. In such a scenario, platinum could gradually rise to $900 an ounce by end of this year and trade at $1,000 levels by 2019.

Written By: Investing.com