Fed cautions growth may slow, requiring additional stimulus
Tech leads European selloff
Oil gives up advance
Gold bearish 
Key Events
US futures, including the Dow, S&P, NASDAQ and Russell 2000 were down Thursday, along with European shares following Federal Reserve Chair Jerome Powell cautioning yesterday that the pace of US economic actively will probably slow.
Contracts on the Russell led the decline, dropping 1.3% after positive returns during the last two sessions. The dollar extended its slump.
Global Financial Affairs
US markets fell in the final hours of Wednesday's trading, led by technology shares. The S&P and NASDAQ both closed lower—while the Dow managed to close higher by just 37 points, or 0.1%, having traded up 350 points earlier in the session—after the Fed reiterated that its current accommodative policies will remain, in order to support what appears to be slowing growth.
The Fed Chair highlighted the need for more cash to boost the struggling economy. Republicans and Democrats have thus far failed to reach an agreement on an additional coronavirus relief package to stimulate economic expansion. But, late on Wednesday the White House strongly signaled that it is willing to increase its offer in current talks with Democrats, and that Senate Republicans should go along in order to seal a stimulus deal in the next week to 10 days.
This morning, European stocks sold off, with the Stoxx Europe 600 Index plunging a full percent in the first minute of trading. The pan-European benchmark was down as much as 1.3% earlier, but has now reversed higher, though it remains in the red.
All 19 industry groups dipped, but automakers were hit particularly hard after data revealed car sales on the continent fell 18%, dashing hopes for a recovery and snapping a three-month streak. Investors may be concerned that this could indicate that the subsidy-support recovery is not sustainable.
Asia was a sea of red, on the heels of Wall Street's final hour, when the US session's advance turned into a descent. Hong Kong's Hang Seng (-1.56%) underperformed, while China's Shanghai Composite (-0.4%) suffered the smallest dip, once again demonstrating its relative independence from global stocks.
Yields trimmed yesterday's jump after Powell said the Fed would keep near-zero rates at least until 2023, removing the appeal of Treasuries. Rates fluctuated this morning, initially wiping out yesterday's gains but returning to the opening's level, half of yesterday's advance.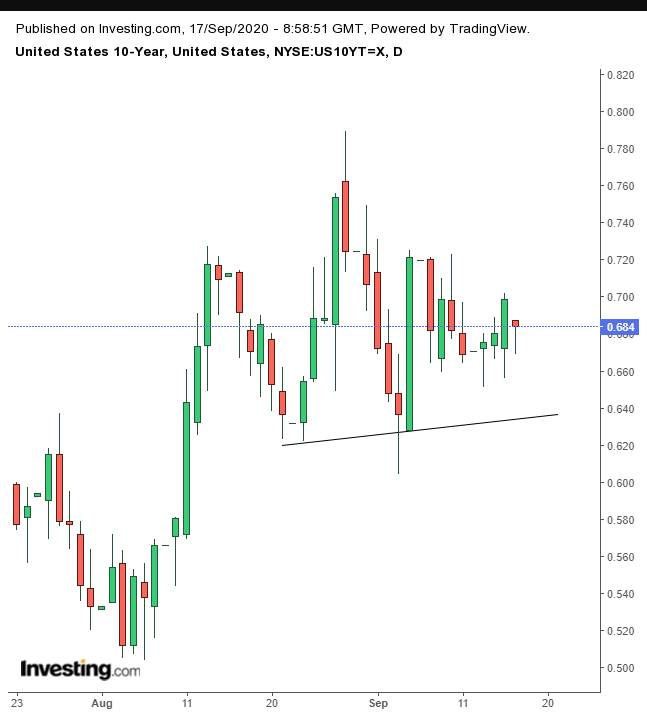 We continue to monitor the 10-year Treasury supply-demand balance amid a potential H&S top for yields.
In mirror image of stocks, Powell's statement on maintaining near-zero rates for a long-time, pushed the dollar down, but when he warned that growth was sputtering, it jumped into gains.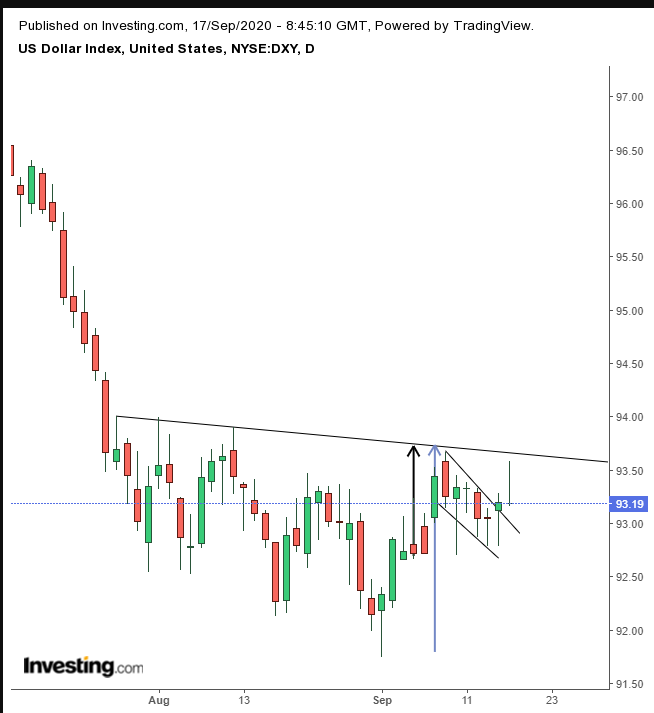 Today, the greenback extended that rally, till it almost touched the trendline that has been connecting the highs since July 28, from where it plunged lower, turning red.
The sudden dollar retreat didn't seem to help gold sufficiently.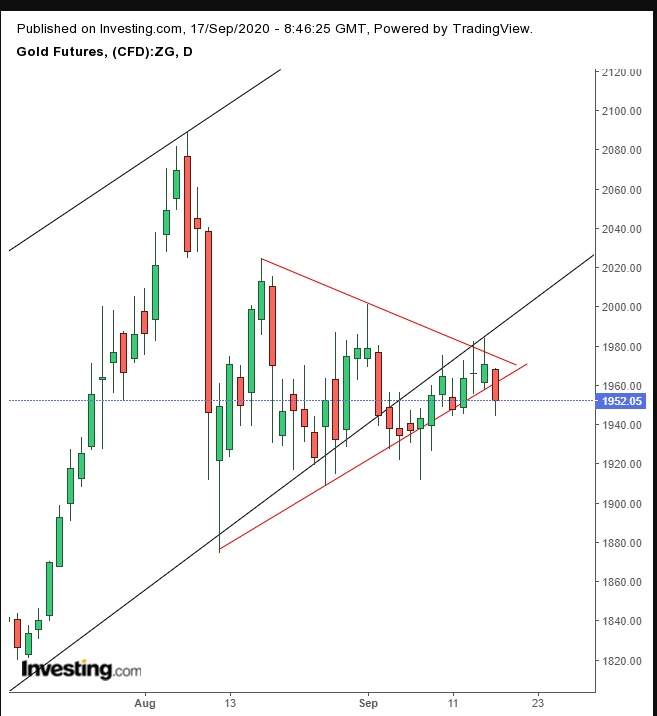 The yellow metal failed to climb back into what may prove to be a bearish pennant, having fallen below the rising channel. 
The yen strengthened to its highest point since March, after the BoJ kept its asset-purchases and bond-yield targets in place.
Oil dropped back below $40 after surging $4.95 on Wednesday, the most since June, in the wake of shrinking US supplies.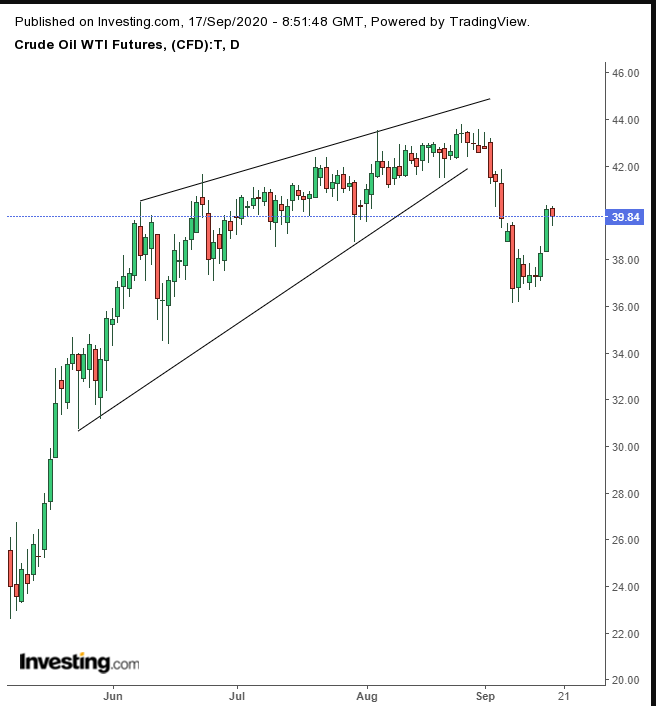 WTI snapped a two-day 7.7% advance after nearing the rising wedge, bearish after the climatic preceding surge.
Up Ahead
Investors will look to , printed on Thursday, to see whether the employment market's initial surge is indeed slowing.
The released later today, will provide another important insight on where the economy is headed.
Market Moves
Stocks
Futures on the S&P 500 Index fell 1.4%.
The Stoxx Europe 600 Index sank 1%.
The Index decreased 0.9%.
The Index sank 0.9%.
Currencies
The Dollar Index was down 0.04% at 93.18, giving up a 0.4% advance. 
The sank 0.3% to $1.1777.
The British declined 0.1% to $1.2952.
The weakened 0.2% to 6.768 per dollar.
The Japanese yen strengthened 0.1% to 104.83 per dollar.
Bonds
The yield on 10-year Treasuries fell two basis points to 0.67%.
The yield on Treasuries declined one basis point to 0.13%.
Germany's yield fell one basis point to -0.49%.
Japan's yield decreased one basis point to 0.015%.
Britain's yield climbed less than one basis point to 0.212%.
Commodities
West Texas Intermediate crude fell 1.2% to $39.67 a barrel.
fell 1% to $41.78 a barrel.
Gold weakened 0.7% to $1,944.74 an ounce.

Written By: Investing.com