Fed leaves rates unchanged, signals same for 2020
Dollar traders await the Dec. 15 tariff deadline to decide its trend
ECB policy decision, Lagarde debut briefing overshadowed
Key Events
Shaking off a mixed Asian session, after the Fed yesterday suggested rates will remain steady next year, U.S. equity futures—including for the S&P 500, Dow and NASDAQ—advanced this morning. European shares on the STOXX 600 also rose.
But Wednesday's monetary policy decision from the Fed and Chairman Powell's attendant remarks weighed on the dollar. At the same time, the single currency climbed for a fourth day, ahead of today's ECB rate decision.
Global Financial Affairs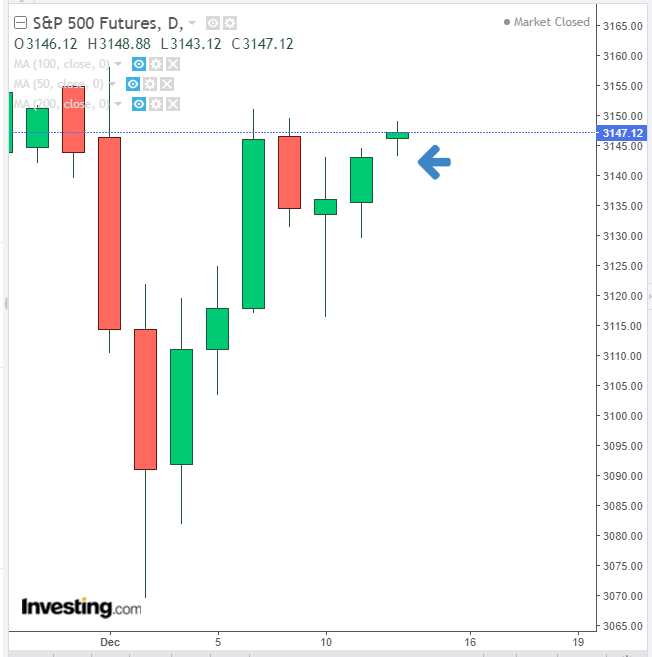 All charts powered by Trading View
S&P 500 futures opened higher today after stocks on Wall Street halted a two-day retreat on Wednesday. Yesterday, the S&P 500 advanced, boosted by the dovish Federal Reserve, after the central bank indicated that investors could rely on them to keep rates low for the foreseeable future.
Tech shares and automakers led the gains on the Stoxx Europe 600 Index this morning, a surprising development for such export-sensitive sectors during this uneasy and dramatic time for trade. In Asia, equities listed on Hong Kong's Hang Seng (+1.32%) and Seoul's KOSPI (+1.51%) outperformed, though stocks slumped on China's Shanghai Composite (-0.30%), and Australia's ASX 200 (-0.65%).
Hong Kong's dollar climbed into the strong half of its trading band against the greenback for the first time since July, boosted by elevated borrowing costs in the city.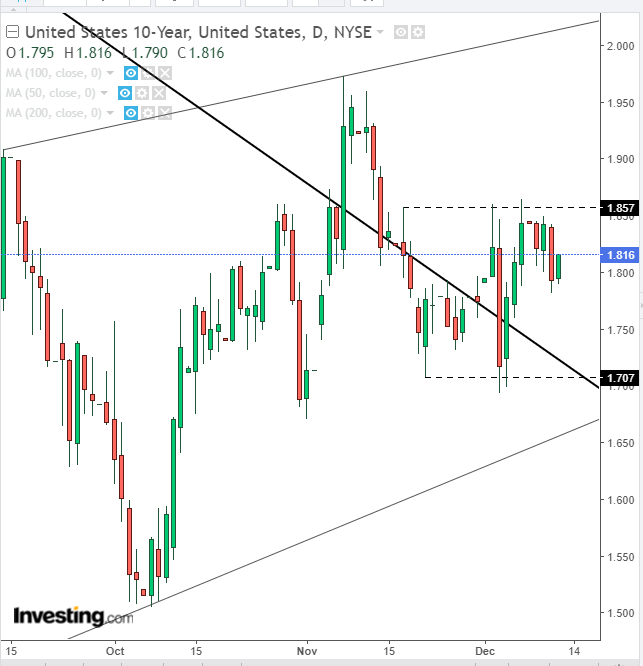 U.S. 10-year Treasury yields stayed close to 1.8% after the Fed's comments fueled bets that the bar will remain high through 2020 for any interest rate movement. Technically, rates continued ranging around the long-term downtrend line in place since November 2018, within a short-term rising channel since October.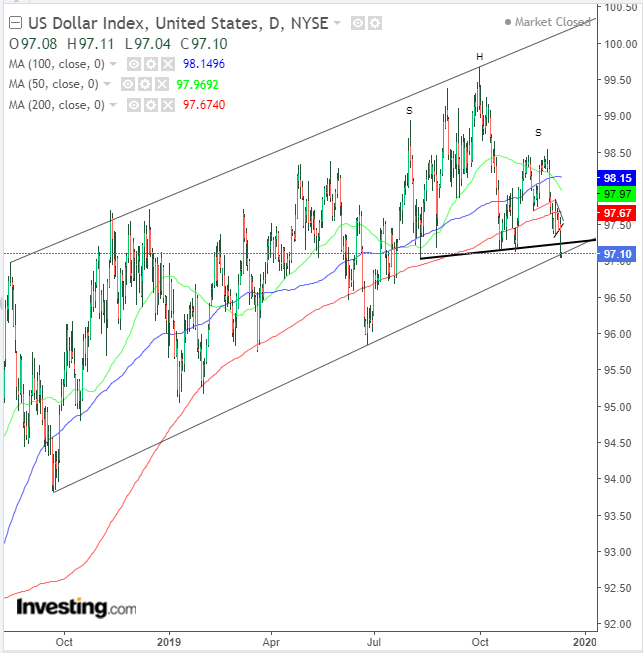 With yesterday's dollar selloff, technically, the global reserve currency crossed below the 200 DMA, completing a bearish pennant and possibly a H&S top. The USD is now on the very edge of the bottom of its rising channel since September.
Sterling built on gains ahead of today's crucial UK general election. Depending on the results, it could finally lead to an actual Brexit, arguably one of the most important British issues in our lifetime.
For U.S. investors however, yesterday's Fed action and rhetoric might have simply been a distraction ahead of what could potentially be a far more seismic event for markets, the Dec. 15 additional tariff imposition on $160 billion of Chinese consumer goods. If the decision isn't walked back or delayed, the implementation of those additional duties could dramatically escalate the U.S.-Sino trade war.
As well, though the Fed's tone was muted yesterday as the central bank delivered its first unanimous vote to keep rates unchanged—after two members voted in November to increase its target range—one has to wonder how much additional impact rates this low will have on the market. Perhaps more important: how effective will they be if ongoing trade issues continue to roil.
Today, investors are eyeing the ECB decision which will be followed by new President Christine Lagarde's debut press conference. Nonetheless, we believe this will simply provide traders with an additional distraction from rising levels of anxiety as Dec. 15 approaches.
Up Ahead
The U.S releases November later today.
Japan's Q4 figures will be announced during the U.S. evening.
U.S. numbers are duo out on Friday.
Market Moves
Stocks
The Index gained 0.1%.
Futures on the S&P 500 Index rose 0.1%.
Germany's climbed 0.1%.
The advanced 0.6%.
Currencies
The Dollar Index was little changed.
The British pound climbed 0.1%.
The euro rose 0.1% to $1.1136.
The weakened 0.1% to 108.64 per dollar.
Bonds
The yield on 10-year Treasuries rose two basis points to 1.81%.
Germany's yield declined less than one basis point to -0.32%.
Britain's yield fell one basis point to 0.769%.
Japan's yield fell two basis points to -0.012%.
Commodities
rose 0.2% to $58.89 a barrel.
declined 0.1% to $1,472.90 an ounce.
gained 1.2% to $2,249.50 per metric ton.

Written By: Investing.com