Geopolitical risk from Hong Kong, Argentina, Italy keeps U.S. futures, European shares under pressure
Multi-year low in Treasury yields raises red flag for equities
Gold hits new 6-year high; yen climbs to highest level since Brexit vote
Key Events
Futures on the S&P 500, Dow and NASDAQ 100 and global stocks extended a selloff this morning as some hot spots of geopolitical risk flared up on Tuesday, adding to the fire of the U.S.-China trade war escalation. Meanwhile, tumbling Treasury yields spooked markets as they hit a new multi-year low amid investors' flight to safety, which propped up the yen and gold even amid a strengthening dollar.
Fresh warnings from Hong Kong's government against escalating civil tensions and a currency crash in Argentina amplified downward market pressure stemming from the most recent trade blows between the world's two largest economies, with U.S. President Donald Trump threatening to walk away from talks altogether.
Heightened political uncertainty in Italy also pressured the STOXX 600 lower for the third day, to extend a drop below the 200 DMA after opening in the red with industrial firms and banks. Should the pan-European benchmark drop 1% further, it would complete a double top.
In the earlier Asian session, Hong Kong's Hang Seng (-2.10%) underperformed as violent clashes between the police and protesters continued.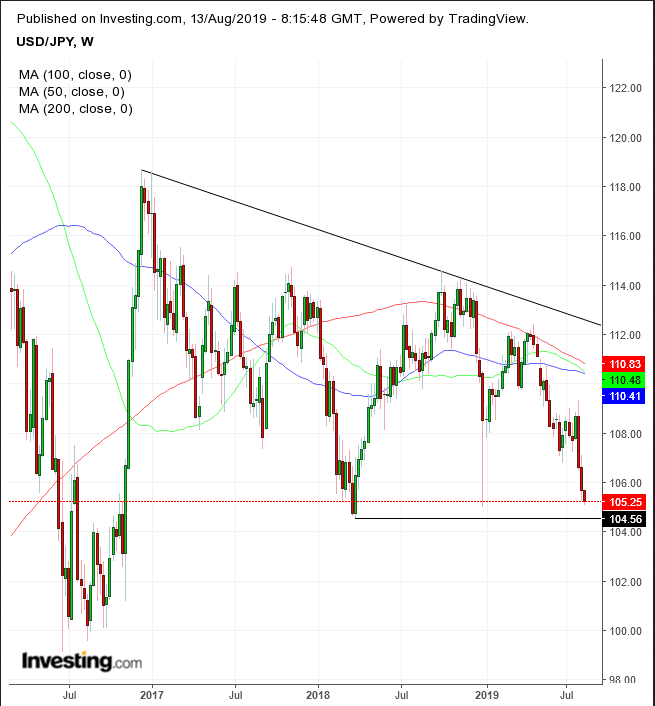 Japan's Nikkei 225 (1-11%) lagged, as stocks were weighed by the strongest yen since March 2018. This level is in turn only 0.6% above the lowest level since Nov. 2016, in the aftermath of the historical Brexit vote: if prices do get there, they will have completed a massive descending triangle.
Global Financial Affairs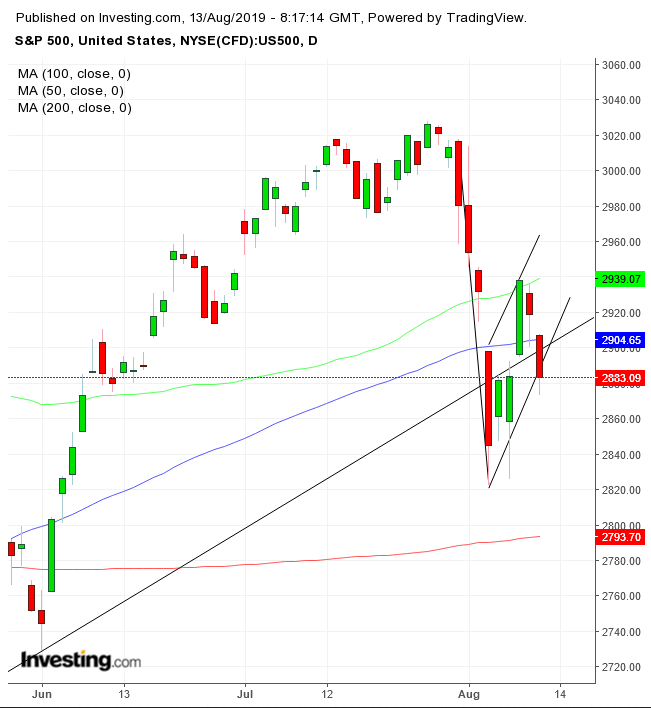 On Monday, the S&P 500 slid 1.23% on risk off, threatening to complete a rising flag, bearish following the index's 6% drop from record highs. The fact that the bearish pattern develops on top of the uptrend line since the December bottom underlines how critical the next move could be, as the uptrend relies on these support levels.
If equities do provide a downside breakout for the flag, they would reinforce a formation of a long-term bearish pattern.
This morning, the yield on 10-year Treasurys dropped to the lowest level since Oct. 2, 2016—as traders weighed the hammer representing last week's support versus a completed pennant continuation pattern—to then rebound slightly. Another leg down for yields would exacerbate selloffs for stocks.
The Dollar Index struggled to return to a rising channel, as it develops a pennant, whose downside breakout would signal another leg down.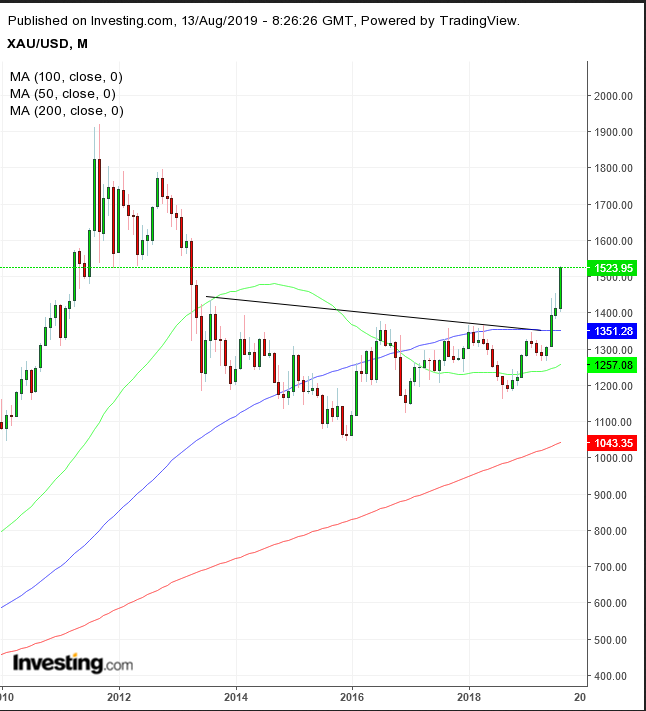 Gold jumped to the highest price since March 2013—even against a strengthening dollar—extending the penetration of an upside breakout to a massive bottom since then.
Bitcoin struggled against the top of a falling channel, consolidating for a week.
Up Ahead
Market Moves
Stocks
Canada's S&P/TSX Composite closed down 0.63 percent Monday.
The fell 1.2%.
Hong Kong's slid 1.8%.
Currencies
The Canadian loonie was down 0.30 percent against the U.S. greenback early Tuesday, trading at 0.7529.

The Dollar Index climbed 0.1%8, paring a 0.25% advance.
The weakened 0.1%.
The dropped 0.2% to $1.1188.
The advanced less than 0.05% versus the U.S. dollar.
The slipped 0.3% to $1.2045.
Bonds
Canada's 10-year yield was down early Tuesday at 1.188, a 1.0-percent decrease.
The yield on 10-year Treasurys dropped two basis points to 1.62%.
Britain's yield declined three basis points to 0.463%.
Germany's yield fell two basis points to -0.61%.
Italy's yield slid three basis points to 1.676%.
Commodities
Gold climbed 0.7% to $1,522.20 an ounce.
increased 1.8% to $17.37 per ounce.
crude fell 0.6%.

Written By: Investing.com