Clement Thibault/Investing.com | Sep 11, 2019 10:28
Once upon a time, the announcement of a new generation of iPhones moved Apple's (NASDAQ:AAPL) stock and sent fans into a frenzy. Yesterday, at the company's annual new product reveal, held each fall, a trio of new smartphones were introduced: the iPhone 11, the 11 Pro and the iPhone 11 Pro Max.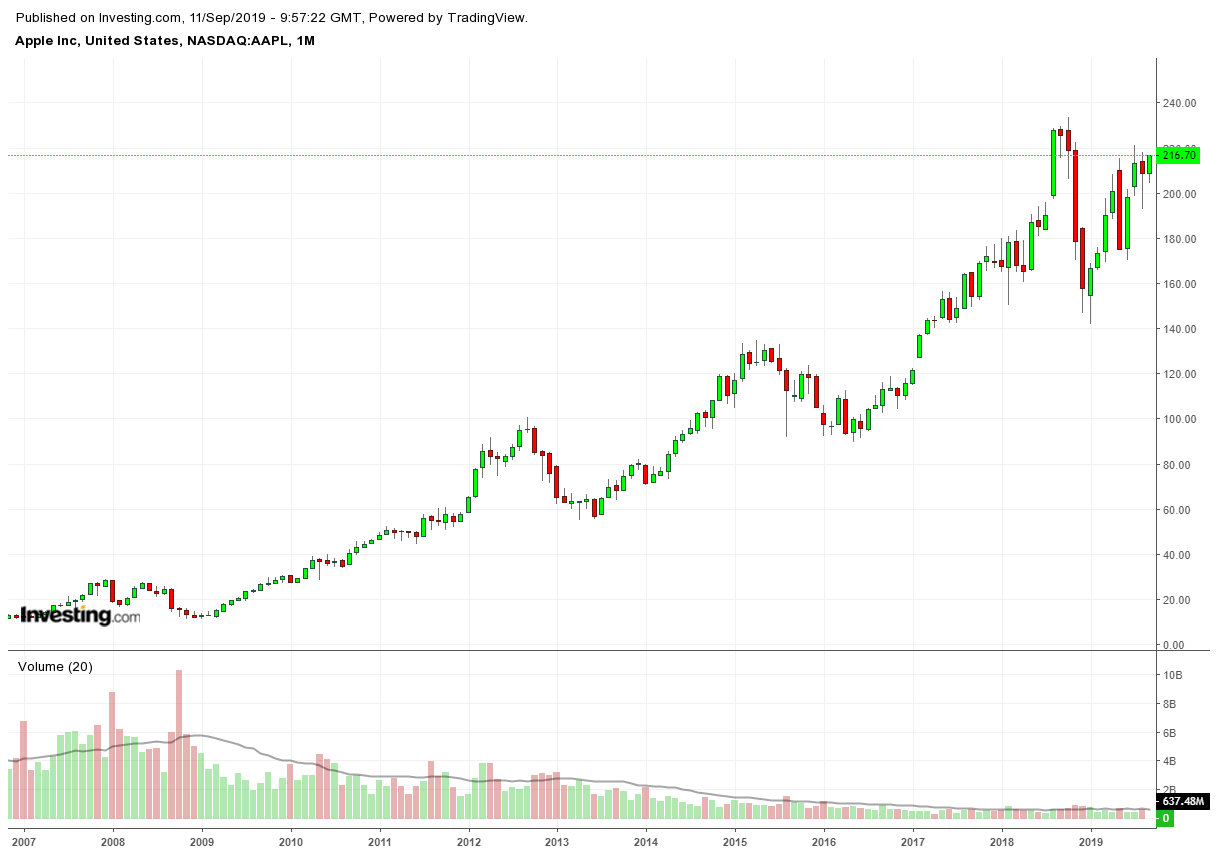 However, it wasn't any new innovation of the iconic product line that fueled excitement or garnered headlines. Rather it was the company's plan to join the fray in the video streaming market, via an offering that will undercut competitors.
Has Apple reached an inflection point where iPhone sales are no longer the robust revenue drivers they once were?
Sagging iPhone Sales
Apple's past three earnings reports tell the story. During each of the past quarters, iPhone sales slipped. The Q4 holiday season—usually Apple's strongest quarter—saw a 15% decline in sales, from $61.1 billion to $51.9 billion. The following quarter sales drop 17%; in the latest quarter, which ended in June, iPhone sales dropped by 12%.
Of course, this need not be irreversible. Though the latest iPhone iterations have better cameras, a faster chip, a new operating system and new colors, they're not exactly groundbreaking redesigns. In the past, really new iPhone innovation has spurred sales.
After a lackluster 2016 and 2017, the release of the iPhone X on November 3, 2017 jump-started sales, which surged 13% immediately after the release, pushed higher by 14% in the subsequent quarter, and gained an additional 20% in the third quarter after the release. Even if the 2019 upgrade cycle meets with a subdued reception from customers, rumors are already swirling about the 2020 version.
Based on information from Apple analyst Ming-Chi Kuo, known for his inside information and accurate predictions regarding Apple's next moves, the next iteration of the iPhone will have a brand new desing and 5G capabilities. And since Apple brand loyalty remains strong, next year's phones could, indeed drive sales yet again.
According to two recent surveys, 90% of iPhone owners expect their next phone to be an iPhone. That's higher than Samsung's (OTC:SSNLF) 86%, or Google Pixel's 84% (NASDAQ:GOOGL). Clearly, consumers aren't bailing on Apple, they're just delaying their upgrades.
For Now, Services, Wearables Holding Down The Fort
About 65% of Apple's revenue from 2016-2018 was derived from iPhone sales. In 2019, the sales mix diversified significantly. Over the past three quarters, iPhone sales accounted for only 55% of Apple's sales yet impressively, Apple still managed to grow its revenue in Q3.
The company's wearable segment, that is primarily the iWatch and the Airpods, grew considerably over the past two years, giving Apple a new revenue stream to compensate for any iPhone losses. Over the past three quarters, wearables revenue grew 37%, from $13.1 billion to $17.9 B. Two years ago, wearables brought in $9.6 billion.
Apple obviously has the dexterity to market other products to its loyal iPhone user base. The wearables segment grew from 5% of Apple's total revenue in 2017 to 10% in 2018, and over the past three quarters represented 16% of Apple's total business.
Even better, services revenue is at an all-time high. Over the past nine months, this segment brought in $33 billion, its highest number ever, 16% more than for the same period in 2018.
And Apple's services segment still has a lot of room to run, starting with its streaming service, slated to launch on November 1, which will undercut competitors with its $4.99 price point—lower than rival offerings by both Netflix (NASDAQ:NFLX) and Disney (NYSE:DIS).
Apple also recently launching a credit card with Goldman Sachs (NYSE:GS), and announced the imminent availability of Apple Arcade, a $4.99 gaming subscription service, appealing to iPhone gamers.
Ultimately, both wearables and services revenues will depend on the iPhone ecosystem, but a yearly upgrade is not a requirement for growing the ecosystem itself. Even consumers with older iterations of the smartphone are likely to purchase accessories and services.
Conclusion
There's no reason Apple has to release a killer new iPhone every year to remain one of the largest, most profitable companies in the world. In truth, Apple appears to be optimizing its reality by expanding and diversifying its iPhone offering just as the world becomes hungry for something new. Apple's real secret sauce has become its sticky ecosystem, something the company continues to smartly cash in on year after year.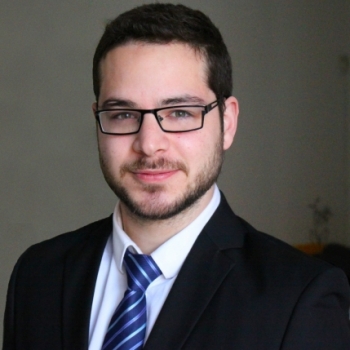 Written By: Clement Thibault/Investing.com