Could opportunity lie in the space between reality and expectations? That is the question those who are still willing to bet on the cannabis sector are asking in the wake of last week's earnings report from Aphria (NASDAQ:APHA), (TSX:APHA).
The Ontario-based cannabis grower has watched its stock price sink since reporting its first-quarter earnings last Thursday. And here's the rub: the stock slide comes despite fiscal results that show its sixth consecutive quarter of growth. In fact, Aphria hit a record in gross revenue, posting C$69.6 million (US$52.74), a jump of 23% compared to the previous quarter.
"Our financial results continue to be the envy of the industry," Aphria's chief finance officer Carl Merton reportedly said.
But those results were still not enough to meet analysts' projections.
Aphria reported C$145.7 million (US$110.41) in net sales for its latest quarter, which ended Aug. 31, 4% below the previous three-month period. The company blamed this dip on a drop in sales in its prosperous German medicinal cannabis market.
The marijuana grower recorded at C$10-million (US$7.58) EBITDA, but analysts were looking for C$11.9 million (US$9.02) in earnings before interest, taxes, depreciation and amortization.
"Our strong first quarter results reflect the continued robust growth and development of Aphria's adult-use cannabis brands in Canada," chief executive officer Irwin Simon stated in a news release on Thursday.
Shares of Aphria fell more than 15% last Thursday, followed by another 2% loss on Friday to close at US$4.65 (C$6.13). The stock reversed the trend slightly yesterday, gaining 0.65% in the United States to close at US$4.68, and adding 0.82% in Canada to close at C$6.18. The stock is down about 2% in the last year.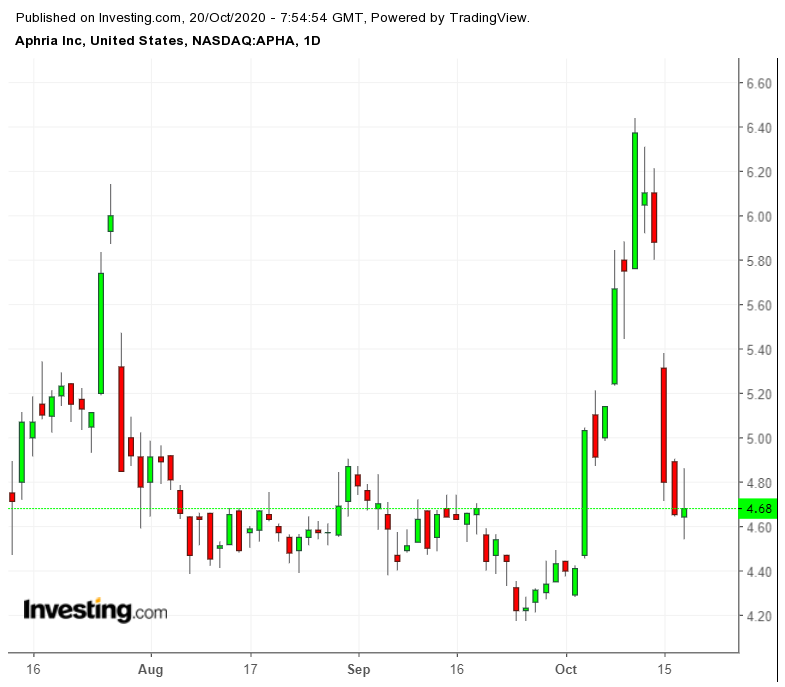 Aphria stock has done better than other Canadian-based pot stocks in the last quarter, gaining about 20%, which outpaced others like Canopy Growth (NYSE:CGC), which saw gains of less than 2% on its stock price, Aurora Cannabis (NYSE:ACB), which registered substantial 60%+ loss in stock price and Tilray (NASDAQ:TLRY), which took a 21% drubbing.
MedMen Continues On Downward Trend
MedMen Enterprises (OTC:MMNFF), (CSE:MMEN) shares hit a new all-time low last Friday after it reported its fourth-quarter results. The small U.S.-based marijuana company saw its revenues drop about 40% in the last quarter to US$27.4 million.
The reasons for the decline were vast, including shutdowns in some states, COVID-19-related declines and civil unrest in some U.S. markets.
To add insult to injury, analysts with Canaccord Genuity reduced the company's price target to zero following the unveiling of the latest earnings report.
MedMen stock traded down again slightly yesterday to close at US$0.1213. The stock has lost more than 88.5% in the last year.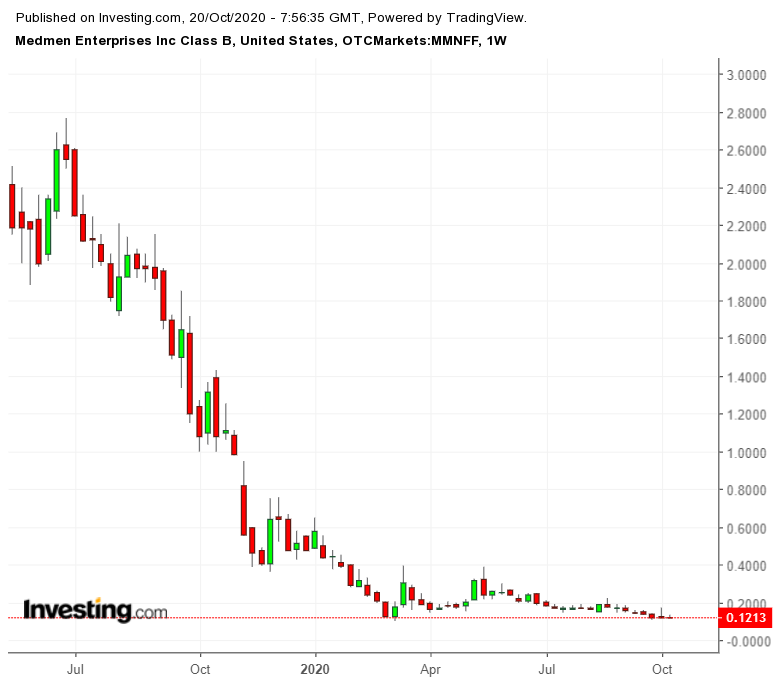 Legalization In Canada Marks 2nd Anniversary
While market observers continue to speculate on when the U.S. will legalize marijuana, legalization marked its second anniversary in Canada this month.
Today, there are 507 licensed producers of weed in Canada, with about 60 of them selling into the recreational market.
One of the biggest issues facing growers in the Canadian market is oversupply, which means many companies could be facing tough decisions ahead: how big will the write-downs be?
This fall will also mark the first time cannabis grown outdoors will be hitting the market and adding to the supply.

Written By: Investing.com