Though often thought of as "the poor man's gold," thereby giving less wealthy investors a chance to own something relatively shiny and valuable, the "poor" in silver's nickname can currently also be linked to the shabby returns delivered by the white metal this year. Indeed, as of this writing silver is headed for its sharpest loss since 2015.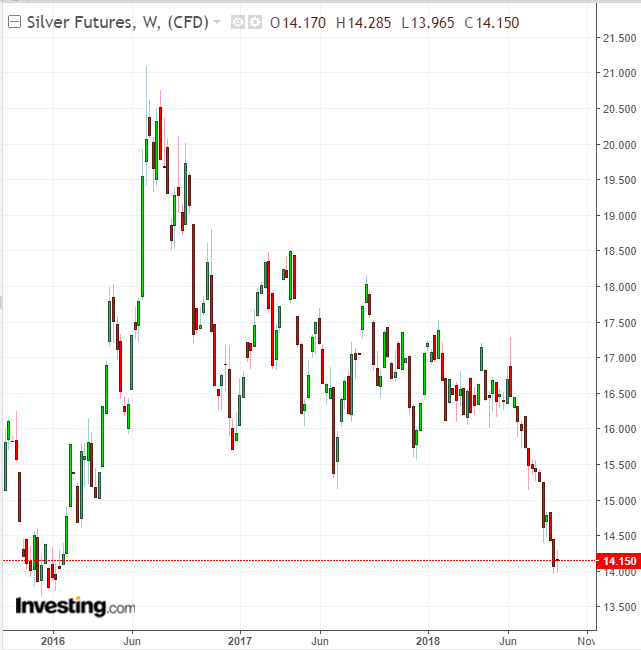 Silver futures on New York's COMEX, as well as the London Metal Exchange, are down 17 percent year-to-date, having lost twice as much as gold and underperforming the entire precious metals sector, which includes platinum and palladium. Some say that shouldn't be happening. Silver, after all, is a required component in manufacturing almost everything from coins to cellphones and solar panels, aside from jewelry and medical instruments.
Others argue that for all its virtues, silver doesn't—and probably never will—have the financial liquidity and portability of gold, and will, therefore, remain in the shadows of its more lustrous cousin. And while fundamentals and technicals may call for a silver rally independent of gold, the reality is, that may not happen—at least not immediately.
A More Industrial Precious Metal

"The trouble is despite being classified as a precious metal, silver, for all intents and purposes, remains an industrial metal," said George Gero, managing director for precious metals at RBC Wealth Management in New York.
"Being industrial means silver is very much dependent on things like home sales, car sales and computer sales. And with the ongoing US-China trade war and the way that's affecting demand for industrial metals, it's understandable why some investors are viewing silver in the same light as copper."
But silver's complications don't end there, as any price forecast has to be in line with that for gold, he added. Silver's current price ratio to gold is 1:85, yet it couldn't rally. "So, while you may get a couple of traders screaming for a major rebound in silver based on its own fundamentals, you won't know what kind of an upside it is going to have until you see the upside gold that has."
In Tuesday's session, US silver's most active December futures contract settled at $14.153 an ounce. Investing.com data shows COMEX's benchmark silver opening the year at $17.025. In contrast, US gold for December delivery settled the previous session at $1,202.20 an ounce, down 8 percent from the market's 2018 debut of $1,305.80.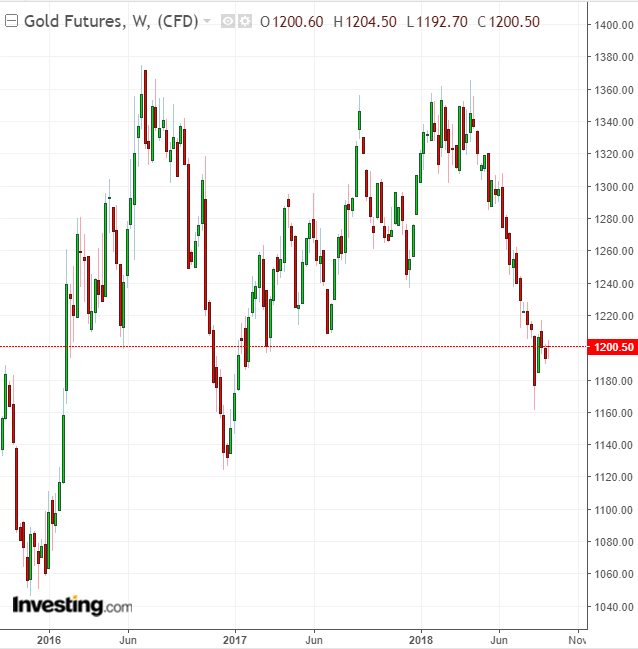 "Neutral" Call For Gold, "Strong Sell For Silver
Investing.com's daily technical outlook has a "Neutral" view on gold, with Fibonacci patterns showing the strongest support for the so-called yellow metal emerging at $1,188.03. But for silver, the view was a "Strong Sell," with Level 3 Fibonacci support indicated at $13.828.
Some traders have dumped the notion that silver has to trade relative to gold, profiting lately from independent bullish bets taken on the white metal. But such positions are rare and the volumes contracted are often too small to have any positive price impact.
"We bought silver at $14 a couple of weeks ago and sold it when it hit $14.30," said Phil Davis of PSW Investments in New York. "We made $1,500 per contract, an opportunity that was kind of hard for an independent trader to refuse. We're back in again at $14 and think we'll hold this time till it reaches $14.50."
Blame The Dollar, Not The Metal
Davis said buying silver at prevailing prices was a "no-brainer" as the metal had so many more uses compared to gold which primarily had three functions: as a jewelry component, hedge against the dollar and long-term store of value against inflation. He said:
"Many people don't realize that silver and gold aren't falling because they are bad investments. They are falling simply because the dollar is stronger. Considering that silver was trading at around $20 an ounce for a long time years ago, commercial buyers would want to lock in before it starts rallying again."
That was also the view of Steve St. Angelo, an independent precious metals analyst. "The silver price of $14.18 today is set up much differently than when it was trading at $20 in 2008 before the markets crashed," St. Angelo said. "And if we look at the commercial hedgers, they are now net long silver for the first time in over 25 years."
Commercial Buyers Turning Bullish On Silver
"Commercials are now becoming bullish while the speculators are becoming bearish," St. Angelo added. "This is quite a change as the speculators were net long silver … just three months ago." He referred to another thing that worked in favor of silver bulls: The Dow Jones-Silver Ratio, which was at 1,823:1 versus 1,100:1 back in July 2007.
"The indicators suggest that silver is both excessively oversold and disliked," St. Angelo said. "Even though the silver price could continue to weaken, it is setting up for a significant positive reversal whereas the markets will turn down negatively."
Hubert Moolman, who studies monetary fundamentals and their impact on gold and silver, said the US Federal Reserve's bottoming of interest rates in 2015 and recent lows in silver "appear to be the final confirmation of the coming silver rally that will take prices to new all-time highs".

Written By: Investing.com